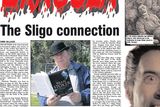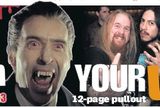 THE MOTHER of the internationally-renowned author and creator of one of the world's best known fictional characters, Dracula, was born, and apparently buried, in Sligo. As the 100th anniversary of the death of Abraham 'Bram' Stoker was celebrated recently, more insight has arisen into his ancestral link to the town. Particular focus has surrounded the influence his mother, and the influence of her upbringing in Sligo on her young son. She witnessed a harrowing cholera plague which claimed hundreds of lives in Sligo, and as some victims were buried alive, tales of those times are thought to have greatly influenced his seminal work.
Charlotte Thornley was born in Sligo on June 28, 1818. Her mother Matilda Blake married Lieutenant Thomas Thornley, from Ballyshannon. Many people who have researched the esteemed author believe that his link to Sligo was the trigger for the birth of his gothic count.
Cloonacool man Dennis Mcintyre is founder of the Stoker Dracula International Organisation, based in Clontarf, where the author spent his early years. Dennis established the organisation in the early 1990s, and being a native of County Sligo has been looking into the Stoker connection with the town.
"Bram's mother lived in what was then known as Correction Steet. This street was the site of where the old gaol stood. There was also a lunatic asylum and a workhouse situated there. Charlotte was born and raised on this street," Dennis explains.
In August 1832, when Charlotte was fourteen years old, Sligo was badly hit with a severe cholera epidemic. Reports claim that during the three month nightmare, between fifty and one hundred people died each day. The disease had been ravaging Europe and other parts of Ireland. However when the epidemic reached Sligo, the town would suffer more than other in the country.
"The epidemic spread from Europe to Britain and then eventually to Ireland. Sligo was worst hit of all, and before this when she was very young, Charlotte had also lived through an early potato blight. But when cholera arrived, she witnessed frightening scenes," Dennis added.
The workhouse was overcrowded; people were dying at an alarming rate, and there was no cure or concrete knowledge about the disease. As the cholera spread, so too did the panic. Doctors tried desperately to contain it, but their efforts were hampered by suspicion and ignorance.
"Charlotte saw pits of graves being dug, with victims being pushed into graves by wooden poles. People were afraid to touch the infected. Many were dragged from their homes, some even buried alive," he said. Dennis is of the opinion that Charlotte retold the terrifying stories to her young son, who was bedridden with an unknown disease until he was seven.
"I argue that Sligo plays a large part and the start of the whole Dracula story. Bram came up with the word 'undead', where the vampire returns from the dead. This also relates to people buried alive, coming back to wreak vengeance on mankind, which could be connected to the cholera epidemic."
Dennis regularly presents talks on the author and is hoping that more focus will be attributed to Sligo connection. "I think overall it's a pity Bram Stoker isn't as well known as our other Irish writers, possibly because he isn't included on the school curriculum. People are afraid of the vampire, but Dracula is a story about good versus evil, and in the end good wins out. I think people are jealous of the vampire, because he lives forever, and nobody wants to die.
"I would like to see events in Sligo to recognise the town's history with Stoker. It could be a huge thing; after all it was Bram, and Dracula, who paved the way for thousands of books, television programmes and films, right up to the likes of Buffy the Vampire Slayer, The Vampire Diaries, True Blood and Twilight . To me, Dracula is the world's biggest fictional character, ever," Dennis said.