Coláiste Chú Chulainn are north-east regional champions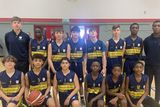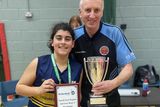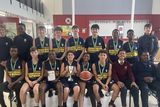 Coláiste Chú Chulainn are once again north-east regional champions. This time in the junior boys' section for second year players.
They encountered formidable opposition from O'Carolan College, Nobber, in what was a tightly-contested final in the Phoenix Centre, Carrickmacross.
Captain Christos Kostopoulos lifted the regional trophy after he and his teammates overcame a poor first half performance to really show their defensive prowess in the second period. They are now through to the All-Ireland quarter final stage and hope to follow in the footsteps of their U16 classmates who went all the way and achieved national glory in February.
Captain of the U16 team, Franciszek Chmielecki has been assisting coaches Mr Slowey and Mr Murray all year with the first and second year teams. His experience of leading a successful team is evident in the continued successes of school basketball.
This year's second year panel has also been bolstered by the inclusion of excellent first year players from the local club, Dundalk Ravens. Joseph Osagie, Mohammed Sene, Kasparas Rimkus and Joshua Osaghae are all first year students but have played a massive role in the second year panel and it looks like the future is bright for basketball in Coláiste Chú Chulainn.
Team: Christos Kostopoulos, Mylka Kaloso Kabangu (7pts), Maciej Dobros, Michael Dada, Ethan Gabriele Alba (2pts), Mateo Brlenic (2pts), Oscar Smith, Morrison Emovon, Joseph Osagie (18pts), Kasparas Rimkus (7pts), Joshua Osaghae (2pts), Alex Charubins, Jason Adomako, Oran Oakes, David Mishuhli, Junior Lulu Ndlovu.