Louth students take top prizes in Law Society competition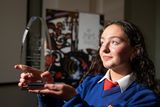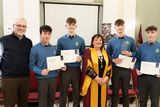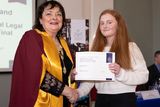 Two Louth students have taken top prizes in the Law Society of Ireland 's inaugural National Gráinne O'Neill Memorial Legal Essay Competition,
Saorla McDonagh Sharkey,  a Transition Year student St Vincent's Secondary School, Dundalk, Louth, is the over-all winner of the competition which attracted over 80 essays from 38 schools across 14 different counties.
Another Dundalk  Michael Kerley of De La Salle College, was awarded third place, while Anthony Johnston, Derry Flanagan and Robert Keenan of De La Salle College Dundalk and Eilí Rose Ryan of Our Lady's College, Drogheda were also among the 32 finalists that attended the event in Dublin.
Each student submitted a 1,500-word essay examining the topic, "The law and social media: striking a balance between freedom of expression and responsible usage."
Saorla won the top prize of  €1000, a, trophy and shield for her school for  her essay which was praised by the judges for her essay's 'unique approach' as she 'carefully put a spotlight on social justice issues to enhance the critical debate of the competing rights.'
"I am delighted to be awarded first prize at the Gráinne O'Neill essay competition," Saorla said, as she attended the prize giving reception in the Law Society, Dublin.
"It's very special that I could attend the event with my parents. The competition opened my eyes further to the world of law and the balance of legal rights and it has definitely inspired me to consider a career in law.
"I would like to thank my teachers, especially Mr Thompson for encouraging me always in English and Mr Henry my TY Coordinator. I am proud to represent my Secondary school St Vincent's Dundalk."
The Gráinne O'Neill Memorial Legal Essay Competition honours the life and legacy of the late Judge Gráinne O'Neill. In 2014, Gráinne became the youngest judge in Ireland when she was appointed to the District Court.