Louth author Pádraig Hanratty releases second novel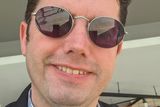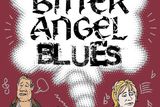 Local author Pádraig Hanratty is launching his second novel, Bitter Angel Blues, on Sauturday May 27 at the Crowne Plaza in Dundalk.
Bitter Angel Blues is a follow-up to the Bellurgan writer's 2017 novel, Talkin' Squirrel Blues. The new novel takes up the story of Tiffany, one of the minor characters in previous novel, as she embarks on a journey to find new love, or maybe just a little peace. Along the way, she receives unwanted spiritual advice from two stoned nuns and a grumpy guardian angel with an epic chip on his scruffy shoulder.
The material world doesn't offer Tiffany much solace either, as she battles with family, friends, and strangers in her quest. Taking each day ten thousand steps at a time, Tiffany learns to rely on her own inner strengths (while trying to ignore her inner weaknesses).
Pádraig is a freelance writer, editor, and instructional designer – working for a wide range of clients in a variety of subject areas.
In his spare time, he takes part in creative writing courses and readings. He has produced a variety of pieces over the years, including short stories, haikus, and flash fiction.
Pádrais first venture into self-publishing came in 2013 when he released A Blanket of Blues, a collection of short stories available from Amazon as an ebook and paperback. He followed this up in 2014 with Dimestore Avenue Blues, a novella.
Relishing the challenges and learning opportunities inherent in self-publishing, he later returned to his novel Talkin' Squirrel Blues and decided to bring it to market also via the self-publishing route. The success of that venture spurred him on to work another novel several years later.
As well as the event in Dundalk, he is holding a launch in the Irish Writers' Club, Dublin in June.
Bitter Angel Blues is available in paperback and ebook formats from Amazon.