Toale's new Dundalk venue for live music
Dundalk Scene'n'Heard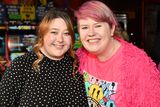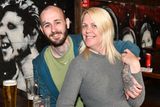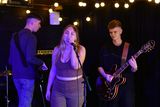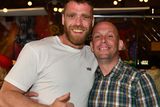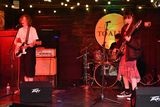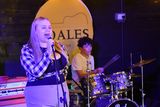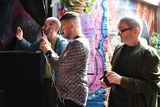 Last Saturday saw the official launch of a brand new venue in a pub with an already impressive pedigree for live music when 'The Venue' at the rear of Toale's bar in Crowe Street opened its doors. Although the premises had started to build quite a reputation for live bands, it was the amalgamation of promoter Dermot Lambert and owner Philip Kirk a number of months ago that helped to bring the whole idea together.
The entire place was given a face lift with the introduction of a full PA sound system including speakers, monitors, drum kit and permanent mixing desk for the benefit of the musicians. Changing rooms for the bands, a brand new pool table and old skool arcade machines have also helped with the ambience in this open and spacious venue.
I wasn't too long in when I met up with main promoter Dermot who said this new venue already has an established legacy for music but will now be focusing on providing a premises that is available to all bands, to the up and coming acts who may be gaining their first experience of playing live in front of an audience, the bands who have a totally original set, through to traditional and covers bands. We want the place to be available to all ages and all styles of music. If any of the bands are interested in playing here, just get in contact with us through Toale's website or info@garageland.ie and we'll do our best to facilitate you.
After this I headed over for a word with the infamous Paddy Mac from Dundalk FM who has been championing live music and particularly new young bands for all his years presenting on the station and he said it's great to have a venue like this in Dundalk, a place where the kids have the potential of getting up and actually playing in front of a live audience. They have the complete back line already there, all they have to do is come along, plug in and away they go. You have to consider their creating and performing music is the drug that gets them high and should be encouraged, the potential for creating is endless and fair play to Philip and Dermot for bring all this together.
Not too far away I met up with well known musician and member of Drogheda power pop quartet Dorian Mood from the late '80s who was accompanied by Alva Alvarez and he said this was his first time there and was very impressed with the venue. It should prove an ideal training ground for up and coming local musicians and with the back line and mixing desk it can't fail to help encourage the potential they have.
Making my way through the crowds I then got a word with local artist and Pork Pie frontman Mickey Stafford who was there with his delightful wife Michele. He said the band had the opportunity of testing out the sound rig on their last performance in the Venue and were particularly impressed with it. Apart from a slight incident with the bass drum, it had been a great gig and were looking forward to more of the same in the future.
I then headed over for a word with Stacey Kelly from Oliver Plunkett Park and Shinanne Higgins from Broughton Street who told me they thought the venue was class, it's about time there's somewhere for the up and coming bands and they really enjoyed the atmosphere in ther place.
Not too far away I met up with Mairead McArdle from Armagh Road who was with Brian and Dawn McArdle from Tipperary. Mairead said they had no idea the official launch was taking place, they just happened to be walking past Toale's and heard the music coming out and decided to investigate. She said they'd already seen three bands and they had given a great account of themselves on what was turning out to be a lovely afternoon of music.
I then headed over for a chat with Anthony Farrell from Knockbridge, Jack McGuill from Dunleer and Nigel Watters from Allanstown who said they were also with Robert McGee from Louth Village and they agreed the place was a helluva job and would be great for all kind of bands.
They were having a laugh with Derek Reilly from ATS Fire & Security in Dunleer, Fergal Kellett and Shane Sharkey both from Tallanstown who agreed the place was excellent and had particularly liked the previous band (Violet Lamps) and were sure the place was going to be a huge success.
I eventually met up with main man Philip Kirk who told me it had taken just over two months to change the place around to the way they wanted it. He has been friends with Dermot since the early 80s and when they put their heads together, they had come up with a bigger stage, a full sound system and mixing desk, changing rooms and everything that expected for a proper venue. He went on to say this is as much a place for young bands to get up and play in front of a live audience as it is a place for more experienced outfits to do what they do best.
He was then joined by Mark 'Mousie' Connolly from B Sharp music and Philip wanted to thank him for all the help and support he had received from him saying it's so important to keep the business local.
After this I headed over for a word with Richie Levins from Meadow Grove who said he thought the previous band had been excellent and the venue was just what was needed round town.
Next I got a word with James McManus and cousin Rachel McCaughey both from Newry who told me this is an ideal place for young bands to play and it had a really good atmosphere too.
Making my way through the crowds I had the pleasure of talking to Branca Breen originally from Puerto Rico now Killanny who was with Bernie and Orlaith O'Callaghan from Carrickmacross who told me they thought it was a fab venue and ideal for afternoon gigs and had really enjoyed Violet Lamps.
I then headed for the open air tables at the side of the venue where I met Patrick and Jamie Martin from Toberona who were having a laugh with Ross Smith from Cavan, Cillian O'Callaghan from Shercock, Killian Breen from Killanny and Demi Lee from Toberona who said the gig was class and so was the venue and here's to more of the same. Ross, Cillian, Killian along with Carmen and Maria Martin were also due back on stage later on that evening and said they were definitely looking forward to it!
Finally, before I departed I met bar person Pierce O'Broin from Seatown and ex barperson Wren McDermott also from Seatown who told me the venue is just amazing and will definitely become one of the main rock venues in town.