St Patrick's Parish volunteers gather for special social occasion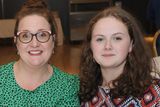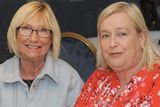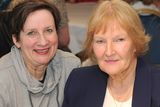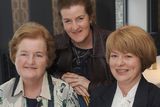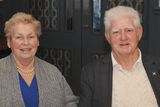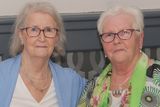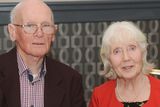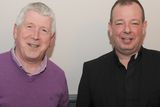 It was a much anticipated gathering for the St. Patrick's parish volunteers night last Friday in the Lisdoo, their first get together since December 2019, due to Covid, but a large crowd were there for a night of celebrations. Fr. Mark O'Hagan was unable to attain a night for their Christmas party over that period and decided it was high time everyone got a good night out together.
I wasn't too long there when I met up with Breda Mooney, Kathleen McMahon and Ollie McGuirk all from St. Nicholas Avenue who are all part of the St. Nicholas Choir who told me it was great to be back and to see all the familiar faces all together in the one place on the night.
Next I caught up with Aobha-Jane Davies from Castletown Road and Anne Newell from Oaklawns who are both readers and told me it was a long wait since 2019 but they were looking forward to a great night with all the volunteers.
After this I headed over for a word with Eucharistic Ministers Rita Mathews from Muirhevna and Ailís Markey from Happy Valley who assured me it was going to be a lovely night and couldn't wait to see all their friends again.
I then headed for the official choir table where I met up with Majella McArdle from Racecourse Road, Diarmuid Dullaghan from St. Alphonsus Villas, Susan Dixon from Muirhevnamor and Grainne Dardis from Mill Street who were then joined by Maria Carmen from Spain and Martin Sharkey from Ard Na Mara who were all in great form and said even though they hadn't been out together in such a long time they were definitely going to make up for it.
Meanwhile up near the bar got a quick word with musical director Brendan McCourt from St. Alphonsus Road who said it was good to see everyone from St. Patricks and St. Nicholas parishes out together for what promised to be an enjoyable night.
After this I headed over for a word with Theresa Clarke from Glenwood, Maureen Quigley from St. Nicholas Avenue and Mary Wykes from O'Hanlon Park who are all Eucharistic Ministers who were surprised it had been that long since their last party but assured me it was going to be a cracking evening.
Just arrived in the door when I met up with them were readers Helen O'Hanlon and Eamon O'Reilly both from Fr. Murray Park who said it was great to see all their friends again in a social setting and were looking forward to a lovely night.
Next I got taking to reader Hugh Sheridan from Dromiskin who said it was way too long since their last outing and he was sure the night was going to be a huge success.
I then headed towards the bar where I met up with John King from Glenwood from the choir and reader Lewis Prieto originally from Spain now from Distillery Mews who were having a laugh together and told me it's always an epic night when they all get out together.
Heading for another table I then had the pleasure of meeting up with cleaners Niamh Brady from Hillview, Bernadette and John Dermody from O'Hanlon Park and Jimmy Kieran from O'Hanlon Park who were ready for a major party and were delighted they were all back out together.
Meanwhile at an adjacent table I got talking to Catherine and Thomas Conlon from Carnbeg who are a Eucharistic Minister and collector, which surprised me as I would have known Thomas as a great singer in previous years. But they were looking forward to a lovely meal and a good chat with everyone there.
I then headed towards the bar where I met Clodagh Davies from Castletown Road who told me she's not involved but was there to chaperone her daughter Aobha-Jane but assured me it was definitely going to be a giggle and a laugh for sure.
Also there were Olive Savage from Culhane Street who sings with the choir and is a reader and Siobhan Girlitz from The Laurels, another reader who is new to the parish and was looking forward to the night.
Finally, as I departed, I caught up with my old friend Paul Murtagh from Annagassan who were there for the Keeley McConville's Confirmation Party and said he was with his wife Carol and his kids Kayce, and Kristina along with Keeley's mum Leanne and aunt Paula and a huge crowd of party revellers who were definitely up for making it a real night to remember.