More residents due to move into new Cluid Housing development in Dundalk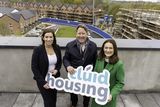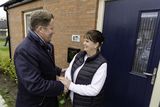 Residents are due to move into the age-friendly apartments in the new Dúiche Roden development beside Ice House Hill in the near future.
The apartments are part of Clúid Housing's newest social housing scheme in Dundalk which, when complete, will provide secure, high-quality homes for 133 families on Louth County Council's housing list.
Minister for Housing, Local Government and Heritage, Darragh O'Brien TD, visited the development when in Dundalk on Monday, enjoying views from the top floor of the recently completed apartment block.
The apartment block, composed of five floors and 14 one- and two-bed apartments, will be managed by Clann, Clúid's age-friendly offering, for residents aged 55 and older. All the apartments were designed and developed using the principles of Universal Design, to ensure their new residents can age in place and enjoy their homes for many years to come.
While the residents of the apartment block will be getting their keys in the coming days, residents of phase one – a mix of 47 two-, three- and four-bed houses and bungalows – have already settled in their new homes.
,"We've been living in Dúiche Roden for a couple of months now, and I have to say, the location is great," Emma McCaffrey. "Everything is right at your doorstep – the local park, the shopping centre and the main town centre are all within walking distance. The estate itself is nice and quiet. My kids love it as they have made some new friends here."
Minister O'Brien, accompanied by the Cathaoirleach of Louth County Council, Cllr Conor Keelan, Chief Executive of Louth County Council, Joan Martin, and other attendees, also visited the final phase of the development, which is currently under construction. The 72 houses and apartments being developed and built by Sonas and OHMG Construction are due to be completed in autumn.
"It's wonderful to be here to see the great progress being made," said Minister O'Brien. "I'm delighted to see these brand new age-friendly apartments. New residents will soon get their keys, so they can join the 47 other families who have already made Dúiche Roden their home."
He commended Louth County Council and Clúid Housing for "their hard work in producing these beautiful, well-designed homes, and I look forward to seeing the completed development, as we continue to support them to deliver on the Government's Housing for All targets."
"It is wonderful to see the many individuals and families who have already moved in after the first phase of the development was completed, and are a part of t he community here in this beautiful part of Dundalk." Cllr Conor Keelan said,
"County Louth has been given very ambitious social housing targets under the government's Housing for All strategy, and we are delighted that this development will provide new homes for 133 families from the council's social housing list.," Louth County Council Chief Executive Joan Martin said. "The high standard of these housing units also support Louth's age friendly principles, and will allow residents to enjoy living here for many years to come."
Eibhlin O'Connor, Acting Chief Commercial Officer, Clúid Housing described the development as "a perfect symbol of Clúid's on-going relationship with county councils like Louth – we see families in phase one settling in and building a home and community, residents in the next phase are about to get their keys to their forever home, when they can grow old securely and comfortably, while across the development, we see the next phase under construction, which will provide even more much-needed social housing for the area."
The scheme is being delivered using Clúid's bespoke Developer Design and Build process, whereby Clúid purchased the site and entered into a developer an agreement with Sonas, who then managed the design and construction of the project. The project has benefited from support from Department of Housing, Local Government and Heritage, the Housing Finance Agency, the Housing Agency and Louth County Council.