Louth photographer snap happy to find Michael Fassbender filming on his doorstep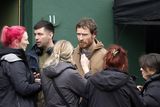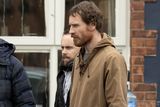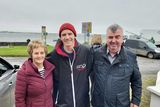 Dundalk photographer Arthur Carron didn't have far to go to capture the photograph of film star Michael Fassbender that appeared in the national media this week.
All he had to do was open the front door of this New Street home on Tuesday to see the award-winning actor making his first appearance in an Irish movie for over a decade.
The actor, who has twice been Oscar nominated, is starring in the Irish language film 'Kneecap' which is being shot in Dundalk and Belfast.
Arthur had the team behind the Kneecap movie, Belfast hip-hop act in his home a few weeks ago, when they were filming in New Street at the beginning of March.
"I knew a few weeks ago that Michael Fassbender would be here but I had to keep it to myself or otherwise there would have been half a dozen photographers around the place," says Arthur, who was delighted to be in the right place at the right time, without having to travel.
"It was nice to have it to myself!"
Concert scenes were filmed in The Spirit Store at the beginning of March and the crew returned this week to shoot more scenes in the town and surrounding areas.
Arthur chatted with Michael Fassbender for a short time and reminded him that it was actually the second time they had met.
"We have a mutual friend, a photographer in Dublin, and I met Michael previously after shooting an awards ceremony and we had a drink afterwards in a hotel in Dublin."
Through his work as a freelance photographer, Arthur has photographed many big name actors including John Hurt, Tom Cruise,  Jon Voight, Mel Gibson and Al Pacino, as well as Liam Neeson when he visited the O'Hanlon Park Boxing Club in town.
He is also getting used to New Street being used as a film location for film sets in Belfast.
"We had 'Good Vibrations' filmed here a few years ago and then 'The Troubles: A Dublin Story'.
The film crew were also in Greenore, where Michael Fassbender happily posed for photographs with locals, including local fisherman Dermot Marks and his wife Ann, whose boat 'Ceol na Mara' was used for a scene. He also dropped in to meet local coastguards in Greenore. Staff in the Carrickdale Hotel were also delighted when he stepped in for a photo.
Earlier in the week, the star was spotted in the south of the county where filming also took place at Seapoint Beach
'Kneecap' is a project by the Belfast hip-hop trio Kneecap, who say that it will be the biggest Irish language film ever made.
Written and directed by Rich Peppiatt, it was one of the winners of the 2021 Mother Tongues Awards, a development initiative for projects at treatment or script stage, in which the story dialogue is in a language other than English.