Louth gearing up for top-class bike racing as Rás Tailteann is on the way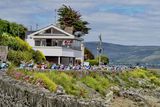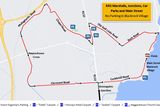 Blackrock is gearing up for another cracking day of top-class cycling as the final stage of Rás Tailteann roles into the seaside village on Sunday week, May 21.
Hailed as a roaring success 12 months ago, the organisers had no qualms about returning to Louth for this year's finale.
175 riders will take to the start line in nearby Navan, before embarking on a gruelling five-day trek around Ireland, with stage finishes in Birr, Ennis, Castlebar and Monaghan town, before concluding in Blackrock.
One of the Rás Tailteann's chief organisers is local cycling stalwart and LMFM presenter, Pat O'Shaughnessy, who feels wrapping up Ireland's biggest cycling race in Co Louth again was a no-brainer.
"It was a huge success last year. The local businesses and groups really bought into, and they were delighted to have it back this year. A fantastic crowd came out to watch it and the riders just loved it. Daire Feeley, the overall winner, felt the finishing circuit around Blackrock and Haggardstown was as good as anything he has experienced and I know a lot of other riders felt the same way."
Pat feels that reverting to a five-stage race, from the pre-Covid nine-day event, has breathed new life into the event, with far more local riders able to take part, which in turn swells crowds and local interest.
Spectators in Blackrock, in particular, will be treated to a lightning fast finale, with a deceptively long home stretch from the Greengates junction on the Dublin Road to the finish line on the Main Street.
After arriving into Blackrock from Castlebelligham, riders embark on four laps of an 11.2km circuit taking in Main Street, Rock Road, Old Gold Links Road, Chapel Road, Mullagharlin Rod, Heynestown Cross and Clermont Road and back through Main Street.
The peleton is expected to hit Blackrock at around 2pm with the four-lap finishing crit taking approximately one hour.
There will be 24 moto marshalls, six garda motor bikes and a race command unit, but road closures and delays will be kept to a minimum with traffic travelling in the same direction as the race facing short stoppages.
O'Shaughnessy paid tribute to local gardai and Louth County Council for their assistance in organising the final stage.
"Sergeant Declan Higgins has been just superb and we're very thankful to the team from the county council led by Ian Durnin," he added.