Heinkel returns to Dundalk
Restoration of the 60 year old 'bubble' car manufactured in Dundalk brings delight to locals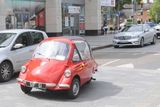 A 60-year-old Heinkel 'Bubble' car made a triumphant return to Dundalk last week, after it was lovingly restored by motoring enthusiast Hugh Tierney.
Cruising into town at its top speed '100 smiles an hour' or better known as 40mph, the Heinkel was a fascinating visitor to Market Square as owner Hugh parked up outside Dundalk Tourist Office to 'show off' his pride and joy.
'It's always great to be out and about in the car, as it attracts a lot of interest,' Hugh told the Argus.
Having bought the car for one hundred pounds in 1990, he admits he didn't look at refurbishing it for another 26 years.
'It was only about two years ago that I actually began to restore it, and it was in remarkably good nick. That's the Dundalk built quality for you!' said the Donegal native who now lives in Dublin.
'I've always had a passion for old cars, but this one is really special,' said Hugh who nickname the car 'Wee Sally' in recognition of its small stature!
With it's unique front opening single door, it's hard to believed that the Heinkel was an advanced for its time.
In the late 1950's Dundalk became, for a short period of years, a centre for the production of one of the most unusual cars ever to be put into production.
The site of this enterprise was the old workshops of the Great Northern Railway, where the Dundalk Engineering Works was set up to manufacture Heinkel Cabin Cruiser bubble cars.
Indeed the worldwide rights to manufacture the Cruiser were purchased by Dundalk Engineering Works and all the tools, dies, presses and jigs necessary to restart production travelled to Dundalk.
'The quality really is very sturdy, and parts are surprisingly enough quite easy to get either from Germany or the UK.
'I'm actually really keen to get talking to anyone who worked at the factory or who had relatives who worked there,' said Hugh,.
The Heinkel Cabin Cruiser was an intriguing design, manufactured in two versions, a 3-wheeler and a 4-wheeler on which the two rear wheels were placed close together.
'It may look small now, but it was actually a family car,' said Hugh
Indeed the Heinkel has room for two adults side-by-side and a small seat in the rear, which could be used for a child.
'The engine is housed under the rear seat. but it is easy to get at for repairs and that if I needed to.'
For Hugh it has been an endearing passion in his later years, and a stylish way to get his daughter to the altar on her wedding day!
'Yes I took my daughter in it to the church for her wedding. It was a great way to travel on such a special day!'
He adds that despite its attraction there are only a handful of roadworthy Heinkel bubble cars in Ireland.
History showed that despite the optimism shown in Dundalk, and respect in the industry for the quality of work there, the Heinkel's production was to be short-lived.
Demand for bubble cars quickly gave way to a desire for larger motors.
'Its popularity was actually hit by the Mini Cooper when it came onto the market,' said Hugh.
Driving through Dundalk last week, it was clear the see the trend in larger cars has continued, with the Heinkel's small stature comparable only to a modern day 'smart' car.
'It is limited in its speed to around 40 miles per hour, and I wouldn't take it on the motorway, but otherwise I've found it a great way to travel,' added Hugh.
Such is the fascination with the Heinkel that a model is kept on display in the County Museum in recognition of Dundalk's motor manufacturing past.
Hugh Tierney is anxious to speak to anyone who worked in or had a family member working in Dundalk Engineering Works in the late 1950s or early 1960s. If you know someone this applies to you're asked to contact the Tourist Office on 042 9352111.