Haughey's Louth home up for sale
Kilcurry mansion is second largest home in Ireland at 24,500 sq ft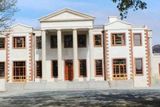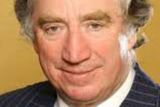 The Kilcurry property belonging to the late Edward Haughey, which is reputed to be the second-biggest house in Ireland, has been put up for sale with a price tag of €4.1 million.
Dungooley Lodge is located in Dungooley, close to the area where Dr Haughey, who founded and owned Norbrook Laboratories, was born. Development work began on the property a number of years ago after a ten year delay.
The property, along with surrounding land on 256 acres, belonged to one of Ireland's richest men, who was killed in a helicopter crash in March 2014.
The property is being sold by his family. The selling agent, Best Estate Agent in Newry, is inviting offers until the end of September.
The house, which is 24,500sqft has been described as a 'neoclassical design' likened to the Merrion Street facade of Leinster House, complete with columns, arched portico and domed roof.
Dungooley Lodge was designed to feature nine en-suite bedrooms, complete with individual dressing rooms. It also includes a drawing room, dining room, study, library, family room, breakfast room, kitchen, larder, laundry room, staff quarters and a 'string room'.
The mansion's sheer size is 27 times the average three bedroom family home. Lord Ballyedmond commissioned McAlister Armstrong and Partners, a Belfast architectural firm, to drawn up plans for the house.
The house is a "shell building" with roof and glazing completed.
It extends to approximately 24,500sqft over two floors with a basement spanning to 2,580sqft. Rooms have high ceilings and large sash windows offering views over the surrounding countryside.
According to the sale agent, 'a unique glass dome and glass lantern feature impressively over the Main Hall flooding the grand entrance with natural light'. Nine en-suite bedrooms, are located on the first floor with further dressing rooms, a study and a room for staff. The main bedroom has its own dressing room, en-suite, study and balcony which offers views over the countryside.