Green light for 130 houses and apartments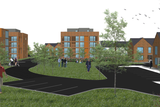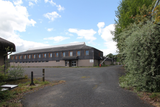 An Bord Plenala has upheld the grant of permission by Louth County Council for a new housing and Community Scheme to be built at the former Eircom site at the Demesne in Dundalk.
The 7.2 acre site incorporates the former Eircom depot and also the former home of Irene White adjacent to the Ice House Hill Park, the Ice House building was demolished by order of the dangerous buildings act in 2017.
The Bord Inspector report stated that 'The Proposed development would be in accordance with proper planning and sustainable development of the area'.
The development comprises of 130 units, a community centre and complimentary facilities and will include 93 houses and 37 apartments. The development was designed by local award winning architects Van Dijk International and has used the heritage of Dundalk's built environment as its inspiration combining the wonderful brick detailing applied all around the town with contemporary space and light design features.
The development is multi faceted and was designed with a heavy emphasis on Louth's unique position as a Town for the Age Friendly and contains units for Specialist living, Assisted living, independent living and features such as internal balconies and increased access and circulation areas are prominent in the scheme.
The scheme contains a very strong landscaping scheme and this includes the preservation of existing trees and the incorporation of three very distinctive public spaces incorporating public art and amenities for all ages.
It is understood that following discussion with family members one of the park spaces will contain a memorial garden in memory of the late Irene White.
A spokesman for local company Emaoifrob Limited who received permission for the site said that they are very pleased to receive permission at the site and that the scheme was very unique in terms of its exceptional quality and also overall design.
It is expected that work will begin immediately at the site in response to the deficit of town centre units in Dundalk highlighted in recent national property reports and surveys.