Fashion show in aid of North Louth Hospice
Dundalk Scene'n'Heard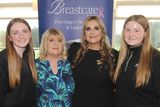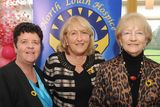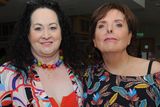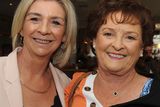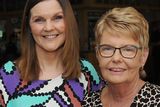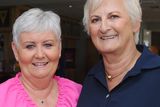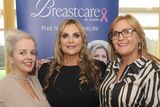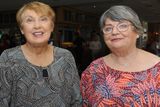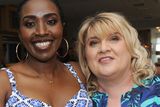 An absolutely huge crowd made their way to the Dundalk Golf Club on Friday night for a fund raising Fashion Show to raise money for the North Louth Hospice. The event was organised by Alison McCabe from Brestcare by Alison and was the second year the event had taken place.
I wasn't too long in the door when I caught up with an extremely busy Alison who told me they had fashions from Sheba, Ruby Nu, Carraig Donn and Ozone on show along with the best from her lingerie and swimwear collection for ladies who have had a mastectomy. She said the night was a fundraiser specially for the driver service that helps to bring patients for chemo and radiation appointments.
She also wanted to thank her husband Alan and daughter Emma for their tireless work on the night to make sure it ran smoothly, Radiant Beauty from Omeath for their permanent make up, Roisin Soraghan, Betty Murray for sponsoring the hair and make up for the models, Amelia Brannigan for helping out and choosing the winning raffle tickets, Nevin Maguire for the fabulous prize, and all the prize donations ,the Golf Club for the availability of the premises and Caroline McElroy the host and MC for the evening.
I then decided I'd better have a look to see who was there and first had the pleasure of talking to Maria Carroll from Dunbin and Kathleen Homer from Louth Village who were there to support the night, check out the fashion and were looking forward to a good evening.
Heading for an adjacent table I then met up with Alanna, Whitney, Lynn, Nuala and Majella Toner all from Muirhevnamor and Niamh Finnegan from Omeath who were there to cheer on Niamh's mum Karen Finnegan who was modelling and they couldn't wait to see her on the catwalk.
After this I caught up with a group who included Michelle and Alexa Clifford from Bellurgan, Noreen Walsh from Dublin, Carina and Seblene Roddy from Bellurgan and Emma Holland from Redbarns Road who were there to support the night and couldn't wait to see Rose Roddy from Bellurgan showing off in the swimwear section.
Not too far away I then got a word with Briege McAlester from Bay Estate and Michelle Carroll from Blackrock who told me they were looking forward to getting up and modelling for Alison and assured me it was going to be a marvellous night.
Also in their company were Rose Roddy from Bellurgan and Jacinta McCamley from Blackrock who were looking forward to their swimwear runway and said the money raised was for such a good cause.
At an adjacent table I then caught up with Maeve Mulholland from Ravensdale who was enjoying the company of Ursula Brady, Mary Lynch and Jenny Burke all from Ardee who told me this was their second time modelling as they had been part of the debut night last year and really enjoyed it.
After this I caught up with more models in the form of Carol McAviney from Blackrock, Agnese Avotire from Corduff, Karen Finnegan from Omeath, Jecintah Kihongeh from Armagh Road and Bride O'Grady-Callan from Monaghan Town who were having a great laugh together and assured me they were ready to give it their all when they got on the catwalk.
I then headed for a table where I met up with Maureen Dunne and Rose Lynch both from Dromin, Margaret O'Brien, Kathy Gilroy and Anne Lynch all from Stabannon who were going to support the fundraiser, check out the fashions and maybe even find time for the odd Prosecco or two!
Not too far away I met up with a group who included Áine Branigan from Seafield Lawns who was with Donna O'Connor from Maple Close who were there to support Áine's mum Una Brannigan from Lower Point Road who was modelling and they were then joined by Áine's sister Clodagh Smith from Lennonstown Manor with her daughter Cate, and her other sister Sasha Kindlon from Lower Point Road with daughter Aobha and aunty Donna McConville-Carroll from Newry who were all up for a lively night and were sure to be shouting loudest when Una was on the runway.
While I was talking to them I then had the pleasure of meeting up with Amelia Brannigan who told she was having a great night and was really looking forward to picking out the winners in the raffle, once she picked her nanny's ticket!
Making my way to another table I then got a word with Edel Reilly and Dymphna Keenan both from Clogherhead and Sylvia Coburn from Bay Estate who said they are friends of Alison and were delighted to be there to support her great work.
After this I then met up with Joan McDonnell from Avenue Road who was accompanied by her daughters Majella Lambert from Willow Grove and Siobhan Mullen from Blackrock who were then joined by niece Sarah McAviney from Blackrock who said they were really looking forward to the fashion show and were sure it was going to be a hugely successful night.
Making my way through the huge crowds I then headed for a table where I had a laugh with Ann McQuaid from Newtownbalregan, Kathleen and Edna Hande from Crossmaglen, Greta Hande from Newtownbalregan, Delores Conroy from Hackballscross and Claire Savage from Kilcurry who were enjoying the company of models Aoife Savage from Kilcurry and Ellie Mulligan from Newtownbalregan who were taking it in their stride and weren't nervous at all and assured me it was going to be a fantastic night.
Just as the event got under way I met up with Carolyn Campbell and Melissa Hanna both from Blackrock who were looking after the 'meet and greet' at the door and making sure everyone was in good form for what turned out to be an exceptional night for all concerned.