Dundalk Townwatch relaunched to combat shoplifting and anti-social behaviour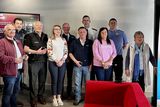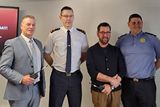 Local traders have welcomed the re-launch of the Dundalk Townwatch Scheme, which operates in a similar manner to the successful Community and Neighbourhood Watch Schemes that operate in rural and residential areas.
Dundalk BIDS and members of the Dundalk Townwatch Scheme met with Superintendent Charlie Armstrong and Garda Darragh Prior, on Wednesday, May 10 in the Creative Spark Downtown Hub to re-launch the initiative within the retail and business community in the town centre.
"The purpose of the meeting was to "reconnect with everyone and to hear how we can restart and work together to identify and address issues that the businesses are facing, and to discuss, in particular, the impact on local retailers suffering sustained loss through frequent shoplifting, aggressive begging, criminal damage and intimidation," explained Town Centre Manager Martin McElligott.
The re-launch of the scheme's radio network is an important step towards improving security and safety in the town centre's business district as it allows shopkeepers and business owners to alert one another to any problems they experience.
Sean Farrell Chairperson of Dundalk Townwatch welcomed the commitment from the Gardai and urged traders to make use of the scheme to ensure that it continues.
"It is essential that all offences are reported to Gardaí immediately to include drunkenness/ nuisance/ begging / shoplifting / robbery etc. We cannot hope to improve our town image and trading conditions, nor influence the provision of either uniform policing or patrol vehicles, if the data collated by the Garda Pulse system is inaccurate," said Mr McElligott.
Superintendent Armstrong described the Townwatch Scheme as "a great initiative and the Gardai are fully supportive of it. The Gardai welcome the opportunity to engage with local stakeholders and businesses in this initiative."
Daniel Holland from Hollands Hardware, Park Street, was one of the local traders who attended the re-launch.
He welcomed the re-launch of the Townwatch Scheme, saying that "shop lifting is always going to be a problem but anything that we can do by getting together to combat it is always worthwhile."
He said the scheme allows members to notify other shops if they notice anything suspicious.
"We are all in the same boat and are trying to promote our businesses as best we can. The town is looking great and things like this help traders."
All business owners in the Dundalk area are encouraged to report any antisocial behaviour directly to An Garda on 999.