Dundalk school's Dunk a Teacher challenge raises funds for charities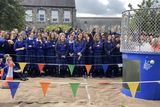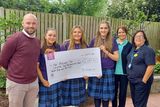 Brave teachers from St Vincent's Secondary School who volunteered to take part in the Teacher Dunk Tank Challenge earlier this month helped students raise €2,175 for two deserving charities.
The fund-raising event was organised by the TYB class and proved an amazing day's entertainment and fun.
The students also organised a successful bake sale.
The proceeds of both events, totalling €2,175 is being split between the Irish Cancer Society and the Alzheimer's Society of Ireland
Teacher Mr David Campion and the class of TYB would like to thank all those who supported their fund-raising.