Designer Laura Rafferty takes up Dundalk's Creative Spark Residency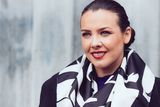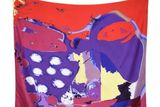 Laura Rafferty. a Northern Irish artist and designer, is the third artist to take up a residency in Creative Spark this year.
With a background in fine art lecturing and design education, Laura has worked in various fields including fine art painting, surface print design, ceramics, sculpture, figure/life drawing, conceptual art, digital art, and photography.
Now she her own luxury fashion label, Lara Lavine Design, producing wearable art.
Laura had a great love of art from an early age and graduated with a degree in fine art from the University of Ulster. She did post graduate studies in visual arts education, teaching art and design and lecture for several years.
She developed her skills as a textile artist. seamstress, maker, and general creative, has gained extensive experience as a freelancer in costume within the TV and Film industry.
Her love for film, travel, music, literature, and Ireland's hardworking people has inspired her to create wearable art that is fun, quirky, creative, practical, flexible to wear, and vibrant.
Drawing inspiration from her heritage, culture, education, and background, she developed a love for drawing, painting, and illustration styles, which led to the creation of the brand, Lara Lavine.
Her collection explore the theme of Ireland's industrial heritage, focusing on the railways and ship merchants that built the Titanic as well as drawing inspiration from the work of artists such as Picasso, Joan Miro, Monet, Andy Warhol, Jackson Pollock, Van Gogh.
She mixes the vivid bright colours of the 20th century's great artists with her hallmark black and white designs which have been shown during fashion week in London and Milan.
The collection includes dresses and jackets as well as headscarves which are truly wearable art.
During her residency at Creative Spark, Laura hopes to hone her artistic skills and experiment with fresh ideas and techniques, leading to a series of fine art paintings and screen prints. With these works as a foundation, she intends to translate them into silk scarves and a couple of garments.
The Creative Spark Residency Programme provides opportunities for visual artists and art professionals to research and develop their practices. It supports both emerging and established visual artists working in any medium, but gives preference to those artists developing a body of work in a printmaking discipline. Each residency is supported by provision of studio space in Creative Spark, along with access to all the facilities and technical support. The residency generally lasts between 2-3 months.
This programme is generously supported by Create Louth (Arts Service of Louth County Council) and Arts Council Ireland.