Conor hitting the high notes
Conquering new heights in Blackrock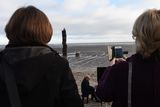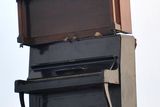 As charity challenges go, this was right on key.
Each year Conor Hughes goes that extra mile to bring a smile to our faces on St. Stephen's Day, all in aid of the CrossCause annual fundraiser.
Huge crowds gathered as always on the beach and along the promenade to check out what Conor and his merry band of volunteers had up their sleeves.
And this year they certainly did not disappoint!
Sitting atop seven pianos stacked neatly, ,albeit deliberately a little askew, the always daring Blackrock native said he enjoyed 'the best view.'
'We always try to do something a little bit different, and I know people do like the endurance acts, so thankfully it all came together,' Conor told the Argus.
While admitting he 'doesn't really' have a head for heights, the unique feat saw him take a seat at the top of the beachfront 'piano tower' for five hours.
'I wasn't worried as I knew it was very secure. They weren't stacked neatly so there was a bit of natural wobble, but I was confident it wasn't moving.'
The event was 'topped off' by music from - you guessed it - a pianist.
Richard Gamble serenaded the crowds with some beautiful music, with teas and coffees and festive treats supplied by the Home Bakery.
'There was a great turnout, and the weather really helped. It was cold, but a beautiful day. People were incredibly generous, we had €6000 donated in just a few hours,' added Conor.
'We really want to thank the Monaghan Piano Centre for donating the seven pianos for the day, and also Mandy Fee from Pelican Promotions and Caroline from Home Bakery.'
All of the funds raised will go towards Conor's charity Crosscause, which is at present focusing on five projects in Ghana, including setting up an eye surgery clinic.
'We were delighted to receive three eye surgery microscopes from the Mater Hospital which were no longer in use. These will really help with setting up the clinic,' explained Conor.
He added that a new 'pledge €10 a month' campaign has been launched for 2018, which he hopes will encourage people to 'give the price of a takeaway' a month. For more information on how to pledge check out www.crosscause.ie