Co Louth Men's Shed feature in new TG4 show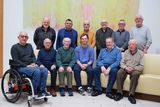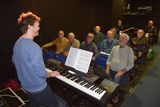 Dundalk's Men's Shed feature in a new four-part series starting tonight Thursday May 25 at 8pm on TG4 and on the TG4 Player
It's one of ten sheds around the country visited by Macha Media as they cover a year in the life of the sheds as they open their doors and introduce their members to the cameras.
The programme, which was made with support from Northern Ireland Screen's Irish Language Broadcast Fund, highlights the characters who belong to the sheds and the wide range of activities they do.
The local segments of series were filmed in Dundalk Shed's old home in Seatown and starts when they were locked out of their premises in late 2021, a precaution taken by the shed committee due to a localised outbreak of Covid-19 in the area. It follows them as they sought alternative ways of meeting up, such as going for walks in St Helena's Park.
On their return to the shed in early 2022, they are filmed enjoying a lively exercise class and working hard in their workshop, creating wooden lamp stands, bowls and bird-boxes, all of which are for sale in the shop to provide the shed with an income to help sustain themselves.
Speaking about the impact of the Covid-19 enforced closures, Dundalk Men's Shed chairperson Peter O'Neill, said "It was a big setback to us and quite a number of members haven't returned yet. But people want to get out, they've been hemmed in long enough. And the shed is good for their mental health too, good for all our mental health."
Having joined the Men's Shed after his mother passed away, Dundalk Men's Shed committee member John Freeman, emphasises the importance of the shed for him personally and for men in general, "I live alone and to me, the shed saved my life. I was there looking at four walls and I had nothing to do after my mother died, I was a carer for her. The Men's Shed is a lifesaver for an awful lot of people, retired men. It's a home from home and everybody is so friendly. We help each other out."
Since the programme was made, the men had to leave the Seatown premises where they had been based since their foundation and are now based in Dundalk Youth Centre, while their choir meets in An Tain Arts Centre.
They are looking forward to moving to their new home at the Community Gardens, Hoey's Lane.
The programme makers describe the series "an emotional rollercoaster which follows the personal stories of men across all four provinces, in rural and in urban centres alike.
"With heart-warming stories of post-covid reopening, caring for the environment and supporting local communities, as well as poignant personal accounts of issues around mental health, family life, cancer, loneliness and loss, this observational documentary series sheds light on the significant positive role played by the Men's Sheds for male health and well-being, especially in a society emerging from the Covid lockdowns."