Cheers as Brewing returns to town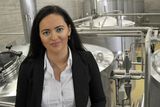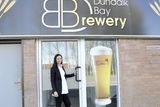 The imminent opening of Dundalk Bay Brewery sees the welcome return of one of the town's traditional industries.
The new 45 hectolitre brewery at the Finnabair Industrial Estate is ready to go into production following a recent successful test run.
It's being run by Faye Healy, who cut her teeth in the family's engineering firm, Spectac International, which has supplied the gleaming equipment for the new craft brewery.
And while the term craft beers may conjure up images of a dusty traditional, this is in fact a state of the art fully automated brewery.
'It can be operated by an iPhone and is the only commercial brewery of its kind in the country,' says Faye.
Spectac International which was founded by Tony Healy, manufactured the brewery for Dundalk Bay Brewing Company, and have also manufactured the recent Alltech Distillery, Teelings Distillery and Rye River Brewery.
'When the brewery goes into production in the coming weeks, it will be the first time that beer has been brewed in the town since the closure of Diageo's Great Northern Brewery (Harp).
'We will be doing contract brewing for other breweries which don't have the capacity in their current facilities to produce the volume they need,' says Faye. 'As a sideline, we will be doing our own beers, IPAs, red ales, stout and lagers, which will mainly be for export.'
She says that the company have contracts with a number of microbreweries and are currently in negotiations with a number of major distributors.
'As the brewery is fully automated, we can guarantee consistency which is a paramount when contracting,' she explains. 'It also means everything can be done quicker and more economically.'
'We will be developing recipes with our head brewer and will have a team of up to 15 staff in year one and onwards and upwards after that.'
'There is a lot of experience of brewing in the town and we are open to anyone who worked in the breweries here to get in touch with us and we would like to be able to tap into that tradition. Dundalk was a great brewing hub with MacArdle Moore and Harp so it is be great to restart that tradition again.'
Faye is confident that the craft beer industry is here to stay.
She believes that providing a quality product is the key to success and that is something which they will concentrate on as production gets underway.
'You have to have a good quality product and also be prepared to evolve with innovation and changing times as the market doesn't stand still.'
'The craft beer market is changing and has increased significantly in the last two years. There is a major rise already in the craft beer business in Ireland so it's never going to go away. People who enjoy craft beers will want something new or different and are not going to go back to regular standard lagers. We're in the position to supply that for both the home and export market.'
Dundalk Bay Brewing can be contacted at Dbbrewingco@gmail.com