Carlingford Pipe Band get invite to White House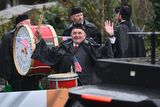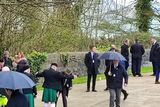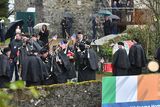 An invitation to play at the White House was the reward for the Carlingford Pipe Band whose members had braved the rain on Wednesday afternoon to perform for President Joe Biden when he toured King John's Castle .
The band, which is celebrating its 50th anniversary this year, was thrilled to be asked to play at what was a relatively private visit by President Biden,  his sister Valerie and son Hunter to the castle overlooking Carlingford Lough.
Seventeen members of the band, pipers and drummers, played as the Presidential party entered the castle. They then took up position inside the Norman castle and played a piece composed by band member David McCloskey.
David had composed the piece called 'A Biden Return' following President Biden's  election in 2020 in the hope that one day he might again visit Co Louth. The  dream of the band getting to perform the piece for the President came true  last Wednesday.
The President chatted to band members and David presented him with the sheet music for the piece he had composed.
As the President was talking to the members, Niall Clarke asked if he could take a selfie and Mr Biden then grabbed his phone and proceeded to take a selfie.
"It was a brilliant day for the band," said Niall. "He went round a spoke to every single one of us."
Niall is the third generation of the family to play in the band, following in the footsteps of his father Luke Clarke, grandfather , also Luke Clarke and his uncle Tommy Clarke.
He said it was thanks to pipe major Paddy McShane that he learned to play.
Many of the current band are the children, grandchildren or great grandchildren of the founder members of the original Carlingford pipe band, which was active from the 1930s to 1951 and then revived after a lapse of 20 years, explained John  Harold.
"The band has previously performed at the St Patrick's Day Festivals in New York and Boston but it's exciting and most memorable performance to date was
for President Biden in the homeland of his ancestors. Could Washington be on
the cards?"