Breast cancer survivors take to the catwalk for Dundalk charity fashion show
North Louth Hospice to benefit from the event.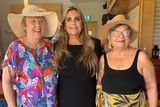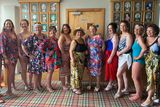 Getting up on the catwalk is a daunting task for anyone who is not a professional model and even more daunting when the models have gone through life-changing surgery for breast cancer.
Some of models taking part in the fashion show being organised by Alison McCabe on Friday night in Dundalk Golf Club to raise funds for the North Louth Hospice, have been affected by breast cancer.
"All my models have had cancer and are at different stages of their journey," said Alison who runs Breastcare by Alison, which carries a wide range of underwear, swimwear, and post mastectomy prosthesis.
"I have the pleasure of working with so many wonderful women who have been through breast cancer, at various stages of their journey," she said.
The ladies taking part in the show "want to show everyone that you can look and feel amazing after cancer and don't need to cover up," she said.
"The North Louth Hospice has a special place in my heart. It is so important for these vital services to be available for those who need them. I urge women of all ages to come along and enjoy the night. Among the many models will be a group of my own ladies who will show everyone going through cancer that you can still look and feel gorgeous!"
This is the second year that Alison has organised a fashion show and this year it will feature summer styles from Ozone, Ruby Nu, Sheba and Carraig Dunn boutiques, as well as swimwear from Breastcare by Alison. The evening will be hosted by Caroline McElroy, stylist and presenter.
Tickets are available from all participating boutiques and Dundalk Golf Club. Each ticket costs €25 and includes a glass of bubbly on arrival, with all proceeds going to the North Louth Hospice. There will also be spot prizes on the night, including dinner for two sponsored by Neven Maguire, who is a strong supporter of Breastcare by Alison and the work she does.