Big Dundalk FC supporter Margaret Curtis celebrates her 60th birthday
Dundalk Scene'n'Heard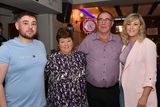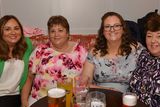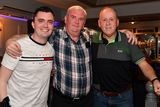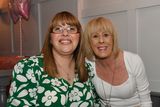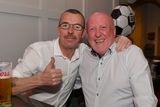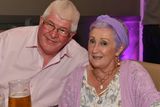 One party I certainly wasn't going to miss last weekend was the 60th birthday party for Margaret Curtis from Oliver Plunkett Park held in Byrne's on Hill Street and there to make sure she had an excellent night was husband Tony, daughter Lisa, son John and brothers Pius, Martin, Michael and Johnny and a huge collection of family and friends.
Margaret and Tony are best known for their support of Dundalk FC are responsible for providing the transportation to all the away games during the league.
I wasn't too long there when I met up with the birthday girl who wanted a special mention for her bestie Beano Savage who was in hospital and couldn't make it to the party and wanted to tell him her thoughts are with him. She also wanted to thank everyone there and hoped they had a fantastic night.
Heading for a table I caught up with Maxi, Fiona, Charlene and Jordan McAlester from Beechmount Drive who were with Catriona Walsh from Wicklow who told me Maxi and Charlene are regulars on M&T buses. They were sitting with Ken Smartt from Knockbridge who told me he and son Adam are also regulars on the bus and wanted a shout out for his wife Tara who was at home.
Heading for another table then met Margaret's son John Curtis who was chatting to Vincent Rattigan from Dunderry and his sister Lisa who was with Cathal McGorrian from Haggardstown who wanted to wish her mum a very happy birthday.
They were enjoying the company of Peter Garry from Navan who was with wife Ellen and daughter Megan who was with John on the night and were looking forward to a lively night.
I then headed for a table where I met husband Tony Curtis who was chatting to Raymond Bellew from Bay Estate and Bino Gray originally from The Holy Lands but now Farndreg and told me his son Garreth was supposed to be there on the night, but had gone to the Leinster V Munster game earlier that day and was now feeling a little too 'tired and emotional' to be at the party, so Bino was sticking to the refreshing 7Up Dark for his choice of drink on the night!
Heading for another group I met up with nephew Niall Casey from Lios Mede who was with Lisa O'Brien from Lennonstown Manor, niece Sharon Fee from Haggardstown, sister-in-law Noeleen Curtis from Seafield Lawns, Margaret's bridesmaid Ursula Shevlin from Barrack Street, mother and daughter Yvonne Curtis and Aoife Moriarty from Lower Point Road and Kim Shevlin from Barrack Street who were all up for a wild and crazy night. But Sharon and Ursula were taking things easy because they had already taken part in and finished the Cooley Challenge earlier that day.
After this I met up with Yvonne and Natasha Waring from Glenwood who were with Natasha's main man Ryan Thompson from Ardee Road who talk me the Waring's have been associated with Dundalk FC for years and have been friendly with Margaret and Tony for just as long.
Making my way through the crowds I then met up with Sally Grant from Mary Street North who was with husband Johnny and they were with Sandra and Martin Grant from Grange Close who all wanted to wish the sister-in-law a very happy birthday and were definitely up for making the best f the party.
One man who was sure to be there had to be the head of the Dublin branch of the Dundalk Supporters Club Gerry McCartney and his delightful wife Eithne from Rialto who were with Denis and Marie Donohoe from Coolock, unfortunately Denis supports Bohemians but we won't hold that against him, well for the evening that was it in, anyway they all wanted to wish Margaret all the best on her 60th celebrations.
After this I managed to get a word with Bernadette and Aidan Kinsella from Sliabh Foy Park who were enjoying the party along with Carmel and Gary Doyle also from Sliabh Foy Park and told me that Aidan was definitely one of the main men because he is the one who drives the coach for Margaret and Tony when they're on tour.
At an adjacent table I then met my old mate and his delightful wife Sean and May Norton from Fr. Murray Park who told me they'd grown up with Margaret and her family and wanted to wish her a very happy birthday.
Also in the same predicament were Anne and Mickey Hoey from The Laurels who have been friends of Margaret's since they were kids and certainly weren't going to miss the bash. The feeling was mutual for Margaret English from Fr. Murray Park and Ita Malocca from Quality Street who said they've been friends with the birthday girl since primary school and were there to make sure she had a brilliant night.
Finally, before I departed, I met up with David and Pauline McCourt from Greenacres who have been long time friends of Margaret and Tony. Pauline remembered finding and taking Margaret's shoe home from the Rugby Club on one of their not so respectable nights out and can still remember the taste they had for the odd glass of Malibu back in the day, yes a taste that rarely leave you!