Amputee's World Cup debut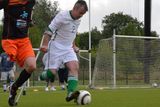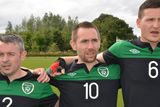 It will be a 'world cup' with difference for Garry Hoey who joins the Irish Amputee Football team at the global event in South America later this month.
The Dundalk athlete will be part of the team to enter the Irish history books as they make their debut appearance at the Amputee Football World Cup in Culican, Mexico.
Garry and his team mates will compete during the eight day tournament against the elites of the sport, current World Champions Uzbeckistan and past winners Great Britain included.
'The event will see two international teams from across the world competing for the sport's biggest prize,' said Garry.
'It will be an exciting event, the first time an Irish team has taken part in the amputee world cup.'
He explained that amputee football was founded in the 1970s in America and today has established teams including Ireland in over thirty two countries. The sport was also recently considered for inclusion in the Paralympic Games. Garry added that the rules of the game follow those of standard football but with a few notable exceptions.
'Outfield players must have an amputation at or above the ankle and use crutches, while goalkeepers must be amputated at or above the wrist, and the use of prosthesis's is prohibited.'
The Irish Amputee Football Association (IAFA) have already sent teams to compete internationally in England and Poland and hosted their own six nation tournament in August 2013, which the Dundalk man competed in.
Then earlier this year the IAFA took on the challenge of preparing a squad of elite athletes not just to compete at the Amputee Football World Cup in Mexico but to challenge for the top prize too.
'Since January we've been training hard, meeting once a month at the University of Limerick,' explained Garry who is the only Louth man on the team.
These weekend training camps have been part funded by the FAI and have seen squad members from across the country assemble to train at the state of the art facilities at UL.
'Professional high performance coach Alan Heary joined the IAFA's coaching staff in 2013 and designed a tailor-made training programme for us,' said Garry.
Through hard work and determination he and his team mates have been lauded for showing exceptional improvements in their speed, agility, stamina and strength.
The IAFA's squad of 16 will travel to Mexico on November 27th, and Garry and his team mates will be awarded with international caps by the FAI for representing their country abroad. 'In Mexico the IAFA will also be launching a bid to host the next World Cup at the University of Limerick,' added Garry.