Narrow West Street area could be transformed in new project with hotel and housing plan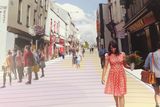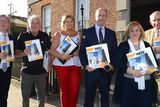 Hubert Murphy
Drogheda Independent
The Chief Executive of Louth County Council Joan Martin says she is committed to a new project to transform the Narrow West Street area into a 'Gateway' entrance to the town.
The project has been split into three parts: Short Term: 3 months- 3 years, 2018-2021, Medium: 3-5 years, 2021-2023 and Long Term: 5-10 years, 2023 -2028 plus.
But she revealed that the project has already started with the painting of West Gate House.
'I have committed myself to this and it is going to happen,' she stated.
Planner, Anthony Abbott King said the plans were very exciting for that part of the town and a number of ideas were being put forward, including a civic space area at the back of the Abbey Centre, and new homes at the rear of Barlow House to bring more residents into the heart of the town.
'There is natural potential and this vision can realise that,' he stated.
There are also plans for a riverside promenade, going from the area around St Dominic's to under the Bridge of Peace, linking up with the Trinity Street area.
Frank Pentony from Louth CC, addressing the launch, was passionate about the vision, feeling it was a hugely important announcement for the town.
He said this was a 'good news story' about the future of the town.
He urged the likes of property owners in the area to come and talk to the council as it is a project everybody has to buy into.
He said in the short term - in advance of the Fleadh - properties in Narrow West Street would be painted and cleaned up where possible.
'The Fleadh won't cure all the ills, but the street won't be in the same state as it is now,' he added.
Funding for the Westgate Vision will hopefully come from government under urban projects.
Mayor Pio Smith said the plan will give a new sense of life and vibrancy to the area and councillors had already put away €500,000 towards the proposed plan.
The plan will protect heritage and exploit potential, address and eliminate vacancy issues with buildings, create a template for urban living and transform the quality of life in the district.