Motorists warned of sudden spring tides as cars submerged on Bettystown strand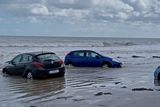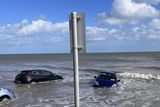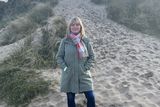 Alison Comyn
Drogheda Independent
A number of motorists feel victim to sudden Spring tides recently, most noticeably on Bettystown beach and on Wellington Quay in Drogheda.
Several cars which had been parked at the entrance to the beach on Thursday, March 23, were caught in the rising tide, and almost completely submerged.
Local councillor Sharon Tolan issued a warning to other motorists to heed tide times, and not leave your car on the beach, opting instead for parking in other facilities nearby.
"Without the concrete blocks at least one of these vehicles would have been completely lost to the sea. We will be experiencing more very high spring tides for a number of weeks longer, so please be aware of tide times before you park and leave your vehicle." said Cllr Tolan.
"If you're going for lunch locally and cannot find on street parking, I strongly urge you to pay the €4 daily rate at Funtasia and know that your car will be safe from the sea!."
Businesses in Drogheda were also forced to protect their premises with sandbags as tides rose over the river wall, causing extensive flooding along North Quay and Wellington Quay the same day, trapping some cars in the rising waters.
Meanwhile, Cllr Tolan has welcomed the news that National Parks and Wildlife have awarded the contract for a new Mornington Dune Protection Plan to Aster Environmental Consultants.
"I am absolutely delighted that we are finally making progress on this very concerning and complicated issue. Our dunes in Mornington are part of a very sensitive and special habitat and continue to suffer by overuse and abuse. It is important that, collectively as a community, we do all we can to protect these dunes for future generations, before it's too late," she said.
"It is also crucial at this stage that Meath County Council provide suitable parking for visitors to the area. This plan will need support from landowners, NPWS, Meath County Council and the public, and I am looking forward to working with everyone in the coming weeks to achieve the best outcome for this beautiful and important site."