Minister of State Kieran O'Donnell visits number of projects during Louth visit
Council projects to tackle dereliction and lack of housing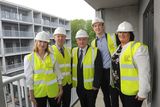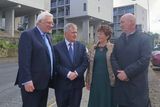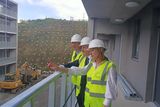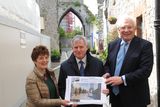 Alison Comyn
Drogheda Independent
Work being led by Louth County Council to tackle dereliction and provide new housing was highlighted as Minister Kieran O'Donnell TD toured the county on Friday May 5th.
The Minister of State at the Department of Housing, Local Government and Heritage stopped off at Castlebellingham to hear of the potential for development within the main street.
Under the Government's Town First Policy, Louth County Council have been actively engaging with owners of vacant and derelict properties in the town centre of Castlebellingham who are responding positively.
Minister O'Donnell travelled onwards to Drogheda, where he met with Louth County Council Chief Executive Joan Martin, and enjoyed a working lunch at the Civic Offices in Drogheda, including a tour of the Old Abbey to hear about the Westgate Vision.
A visit to An Cairéal, a new apartment complex at Donore Road, Drogheda was the final engagement for the Minister. Due for completion in July 2023, the development will provide 66 age friendly homes for people on Louth County Council's social housing waiting list.
"It was fantastic to welcome Minister O'Donnell to Louth," Director of Service at Louth County Council, Catherine Duff ."It was an opportunity to highlight the breadth of work being done by the local authority to improve our towns, to reduce dereliction, and to provide new homes across the county."
Earlier in the day, the Minister had begun his visit at County Hall, Dundalk, where he met with officials and elected representatives, led by Cathaoirleach, Cllr. Conor Keelan, and Cllr. Kevin Meenan, Cathaoirleach of Dundalk Municipal District.
The delegation then travelled to Woodland Park, traveller accommodation in Dundalk, where Minister O'Donnell met with local residents from the travelling community, and saw the improvements being made on energy retrofitting and enhancing permanent facilities.
The Minister had an opportunity to see first hand a number of new, specialised housing facilities in Louth, with a visit to Earl House, Mount Hamilton, Dundalk. There, he met with residents who have been enjoying their new home within the 'Clann Housing' development, which houses people aged 55 and over who have been on Louth County Council's social housing waiting list.