Meath woman and her family raise €20,000 with 100-mile run for Parkinson's
Siblings held the event in honour of their mam, Cindy, who has been battling the disease for over a decade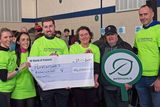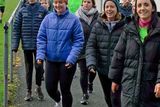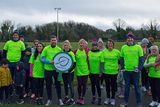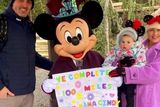 Alison Comyn
Drogheda Independent
Runners from Drogheda & District and Julianstown joined a Stamullen woman and her family, who recently undertook a 100 mile challenge this month to raise funds for the Parkinson's Association of Ireland.
Nessa Hutcheson and her brother Cian Darby and sister Gillian Dowling each ran 100 miles, raising an incredible €15,000 for charity, in honour of their beloved mum Cindy, who has bravely battled the disease for over a decade.
A further €5,000 was raised for the local Meals on Wheels service.
"The event and money we raised were way beyond our expectations, so it was a great day; everybody really seemed to enjoy it and we're delighted.," explains Nessa. "We had initially set our target at €500 and launched our GoFundMe page but within 24 hours, we had raised almost €3,000; we were blown away"!
After that, their local football club St Cian's offered the use of their track at Clann Mhuire CLG on January 29 to invite family, friends and the local community to join them on the final stage of their epic journey.
"During our challenge, we received an outpour of donations and raffle prizes from local businesses and families in the community," says Nessa. "The Parkinson's CEO Paula Gilmore was present on the day and presented us with a beautiful necklace of the Parkinson's aspen leaf (a leaf that tremors) to gift to our mam as a symbol of thanks for the funds raised."
The funds raised are currently €15,700 online and €4,872.30 raised for Naul Senior Citizens/Naul Meals on Wheels from a raffle on the day.
Parkinson's disease is a progressive disorder that affects the nervous system and the parts of the body controlled by the nerves. The first signs are problems with movement, which may include an involuntary tremor.
"Our mam Cindy Darby started off with a pain In her shoulder like so many Parkinson's patients but was officially diagnosed in 2015," explains Nessa. "We as a family have witnessed her overall decline in health since then as she also developed Parkinson's onset Dementia"
The family kept their at home as long as possible and also had a full time live in carer 24/7 for two and a half years years.
"But in December of last year, Mam was no longer mobile and wheelchair bound. She was too ill to travel for doctor appointments so we were advised that the best decision was to move her to full-time care in a nursing home and that the main focus would be to make her as comfortable as possible going forward," she says.
"We were all devastated but knew we had gone as far as we could at home and the decision was taken out of our hands.
"Just before New Year, I saw a message online about running 100 miles for various charities and messaged my brother Cian and my sister Gillian and suggested we did it together for mam and for Parkinson's to try and focus on something positive and to try help other people like mam."
The weather was kind on the day of the event, meaning hundreds from the local community and beyond turned out to walk and lend support.
"We also had an auction and we know Ali Cunningham who is marrying Irish rugby player Jack Conan, so he got us an Ireland jersey signed by the whole team, which went for €1,500 in the end, which all went to the Parkinson's fund," she says with a smile. "That was three times the amount we thought it would make!"
She says her mam Cindy is doing really well, and being well cared for.
"My dad brought in the necklace to her next day and sent us a photo of her wearing it, and showed her all the photos from the day," says Cindy. "We're delighted, we really enjoyed it and I want to say a huge thank you to everyone for such amazing support."
For more information on Parkinson's, contact https://www.parkinsons.ie