Louth Volunteer Centre celebrating 20 years of selfless acts to help Louth communities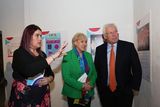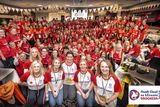 Alison Comyn
Drogheda Independent
Louth Volunteer Centre began life 20 years ago this year as Drogheda Volunteer Centre (DVC), started by a group of civic-minded members of the community to support the development of volunteering infrastructure in the area.
It had humble beginnings in a small office in Mayoralty Street, Drogheda, when people like Íde Lenihan, Brian Conyngham and Mary Ann McGlynn saw the need for a strategy to align organisations with volunteers, in a coordinated fashion, offering guidelines and training.
"The idea for the Drogheda Volunteer Centre started around 1995, when the Drogheda Partnership was set up. One topic that kept coming up was we needed more volunteers," explains Mary Ann McGlynn, one of the founders of Drogheda Volunteer Centre. "Initially, it was a matching exercise, where we would match lots of people who were willing to volunteer with people who would give a more sustained commitment".
Drogheda Volunteer Centre was officially opened by President Mary McAleese in 2003, who said at the time that "volunteering is at the heart of a caring community".
"This centre gives a particular focus to volunteering, where people with time and skills can get direction,' said President McAleese. 'Organisations badly need volunteers and this centre is properly organised and structured and will see the right people matched to the right organisations".
As its mission, DVC sought to "act as a one-stop shop for both groups and volunteers alike, providing a placement and matching service for volunteers and groups that require them. Additionally, to provide groups with training in areas such as development of volunteer policy and management of volunteers."
By the end of 2003, DVC was already supporting over 30 voluntary organisations in the Drogheda area.
"The volunteer centre has a huge positive impact on the whole local community. So many services in the community, so many things that happen for the benefit of those who maybe don't have a voice, who don't have that connection, could not happen without the work of volunteers," says John Cotterell - Louth Volunteer Centre manager from 2012 - 2016.
Two events which really put the Louth Volunteer Centre on the national map were the Fleadh Cheoil na hEireann which took place in 2018 and 2019.
2018 was the largest Fleadh in 70 years - estimated to have attracted over 600,000 people - which necessitated a lot of volunteers!
Grainne Berrill was centre manager from 2016 to 2021, so had the onerous task after staffing the two epic events.
"They were the personal highlights of my life, never mind my working life and had something like 1,100 volunteers involved - we called them the Red Army because of their t-shirts - and it was manic; probably the hardest thing I've ever done, but also one of the most enjoyable things," said Grainne.
Kayleigh Mulligan started out as a volunteer in 2013 and she has now been the centre manager since 2021. She knows the importance of the centre to the local communities, who rely on their help.
"There would be no football teams in the local community without volunteers or tidy towns group, from that kind of grassroots level, right up to the major services, like suicide prevention, cancer charities, animal charities; so much of the work that's getting done in the community is being done by volunteers," says Kayleigh, who hails from Dundalk, and manages the Drogheda centre. "In the immediate future, we're looking at the future of volunteering, so we're focusing as part of this 20th anniversary on looking at young people and giving them opportunities to volunteer."
You can volunteer as little or as often as you like, and there are many ways to volunteer now.
You can register on VolunteerLouth.ie or you can visit the office in Bolton Street in Drogheda or in Dundalk as well.
"When you do something good, you do feel absolutely amazing afterwards".