Louth man's poignant photo viewed over 10m times on Twitter
Prof Kevin McGuigan surprised by global response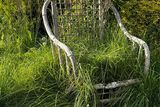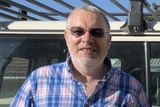 Alison Comyn
Drogheda Independent
They say a picture is worth a thousand words, and in the case of Professor Kevin McGuigan, it is also worth over 10m views on Twitter.
The Drogheda man says he is blown away by how his poignant photograph of an outdoor chair overgrown with grass and weeds has struck a chord with the nation.
But it was probably the thought-provoking caption that accompanied it which touched so many hearts.
In his social media post, the caption read:
Throughout the pandemic, whenever I walked past this garden, there would be a little old lady sitting in this seat who would talk to whoever passed by. This evening I passed and realised..."
We need your consent to load this Social Media content. We use a number of different Social Media outlets to manage extra content that can set cookies on your device and collect data about your activity.
"I am so surprised at how it took off and how it kept going," says Kevin, who is Director of the RCSI (Royal College of Surgeons in Ireland) Solar Disinfection Research Group.
"I thought if if it got 100 likes, it would be great, but 12 hours after I posted it, it had 5.6m views, and now the next day, it is up to 10m views and over 100,000 likes and counting!"
The photograph was taken close to the Glen in Yellowbatter, when Kevin had been on a recent walk.
"It was one of my regular routes during the COVID lockdowns and I would always chat with the lady, but it had been quite some time since I walked that way," explains Kevin. "There are lots of people saying that it's very poignant and it's heart breaking and then some comments say no, this is COVID, it's all down to COVID. I'm sure it's not."
In fact lots of people said they were reminded of Ernest Hemingway's famous six word short story.
"For Sale: baby shoes, never worn."
"Having gathered momentum throughout the day, my phone hasn't stopped," says Kevin. "In fact, I had to silence the notifications in the end because I'm correcting exams!"
Of course, everyone will see something different in a photograph and interpret it in their own way.
"There's lots of people saying oh, this never happened, but that's the internet for you," says Kevin with a laugh. "What I'm really taking from this though is Facebook is dead, because I put it on Facebook on Monday night and I got five likes and one comment.
"When I put it in Twitter, it soon got five million views, and a couple of thousand retweets. That's the most I've ever had".
Professor McGuigan, who is a keen amateur photographer, is a former St Joseph's Secondary School student, who in 2019 shared the UNESCO-Equatorial Guinea International Prize for Research in the Life Sciences.
He has 2,476 followers on Twitter.