Around the Districts: Stamullen and Tullyallen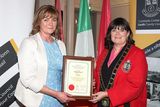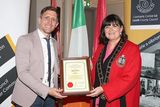 In Memory
Sympathy is extended to the family and friends of Jimmy Kearns, Curraghwalls Stamullen, who passed away on Monday May last at St. Ursula`s Nursing Home in Bettystown. Following his Funeral Mass at Saint Mary`s Chapel in Ardcath, Jimmy`s remains were laid to Rest in Ardcath Graveyard on Thursday morning May 18th last.
Dardistown Ramp
In the past two weeks or so, a small ramp has been installed on the road just a little to the north of the entrance to Dardistown Castle as you travel northwards towards the narrow Dardistown Bridge that spans the Nanny water. The ramp is raised slightly above the road level and it spans the width of the road here. There are no indications, either stripes to indicate a rise in the road or a warning sign on approach from either side. It was also commented on by cyclists who regularly use this road, many of who go out at the weekends in groups and, on one occasion, a person travelling along this stretch of road early last week on an expensive electric cycle got more than a surprise as he was travelling along at speed and suddenly his bike hit the small ramp, which resulted in him briefly losing control of his bike. A few other people who reside locally also expressed an opinion of there not being any warning notices that the road contains a ramp here!
Julianstown Tidy Towns
The Julianstown Tidy Towns Group are currently seeking some new volunteers who may wish to help out in their Community Garden over the summer months. If anyone may have some spare time on their hands on a Monday, Tuesday and/or a Wednesday, they would be greatly appreciated if they could perhaps come along and help out with weeding, planting, trimming, collecting the litter, etc. The Tidy Towns Group have also entered the Supervalu Tidy Towns Competition for this year, along with entering for the An Taisce Green Flag Award for their wonderful Community Garden; they will also be entering the County Meath `Pride-of-Place` Awards later this year and they are calling on parishioners to maybe just give the area outside their abodes, or perhaps lend a hand to a neighbour with a little clean-up to help keep the village as `spic & span` as they can, this will be greatly appreciated by the Committee of the Tidy Towns Group. The Group would also like to express their most grateful thanks and appreciation to Meath County Council for providing their Community Garden with some chippings for their car-park and footpaths and for awarding a grant of €600 towards the upkeep of Moorechurch Graveyard and a further €350 towards equipment for their Community Garden, which was granted under a scheme called `Connecting Cultures`. Well done to all concerned.
Stamullen Road Race
The Annual Michelle McKiernan five kilometre Road Race will take place this Tuesday evening, beginning at the Saint Patrick`s Gaelic Football Club Grounds at 8pm, with the Juvenile races beginning at 7pm.
TULLYALLEN
Deadline Times for Your News
If you would like to see your news in this part of the newspaper, birthday, wedding anniversary, achievement, new addition to the family or anything that might be of interest to the local community, please have no hesitation in contacting. Give me a ring at 087-6366605 or pop me an email at hilary.a.kelly@gmail.com. For any news to feature in next week's paper your news must be with me for Friday morning 10 o'clock.
Carers Big Thank You
Tullyallen Carers would like to say a massive Thank you to the Tractor Run committee for their donation of €2000 from the proceeds of their recent Tractor Run. The carers were blown away by their generosity and just do not know where to start with the "Míle Buíochas" as there were so many people involved in the planning, event managing and participating on the actual day and not to mention gathering sponsorship. There are far too many to mention and for fear of leaving anybody out, the carers just want to say a collective Thank You to all and just to let you know that your donation and support is greatly appreciated.
Lotto Results
The Glen Emmets Lotto draw sponsored by The Morning Star took place last Tuesday May16th, there was no winner of the jackpot, and the result is as follows: Grand Prize €2,500. The numbers drawn were 6, 9,22,25 and the Lucky Dip winners of €25 were Lisa Martin, Paddy Crocock, Tom Hayden, Bridie McHugh. The draw is held online Tuesday nights and can be viewed on the Glen Emmets Facebook page. Tickets are on sale in Centra Tullyallen or go onto the Glen Emmets Web page where you can set up your weekly draw numbers & payment. But not to worry if you are not internet savvy, if you would like your envelope collected, contact any member of the Emmets & they can organize to collect your envelope.
Bridget's Road to Recovery Fundraiser
There is a night organized in Tullyallen Hall on Friday, 7th July for Local lady Bridget Devine who many locals will know as she grew up here right in the village. Bridget has had some medical issues and is doing well but needs rehabilitation to get her back on track. Bridget's family and friends are organizing a get together/fundraiser with music by Eddie Quinn & Ray Murtagh. There will be a raffle on the night with lots of Spot Prizes, a Supper and Bar and all for just €20 Admission. I'm told there will be dancing into the wee hours so why not give Paddy 086-2334259 or Theresa 085-1618521 a call to book your ticket, this promises to be the best 'Catch Up' the village has seen in years and all in a very good cause. This is an over 18 event but contact Paddy or Theresa for any further details.
Parish News
Congratulations to Anne-Marie Moroney, Anne Turnbull, Enda Flanagan, Nancy McGuinness, Rosemary Russell & John Murphy who received the St. Patrick's Medal. This is awarded by Archbishop Eamon Martin for their outstanding contribution to the Parish Faith Community, photos to follow next week.
Holy Spirit Triduum in our Parish- 26th- 28th of May. Friday- Adoration at 7pm followed by Mass at 7.30pm, Saturday: Mass for students undertaking examinations at 7.30pm and Sunday Rosary at 10.30am followed by Mass at 11am. The Holy Spirit Triduum prayer will be prayed at each Mass.
The AGM of our Parish Pastoral Council will take place at 8pm on Thursday, 8th of June in the Paddy Healy Room in our Parish Hall.
Corpus Christi/Cemetery Sunday: Our Outdoor Mass with Eucharistic Procession and Blessing of Graves will take place on Sunday 11th of June at 11am. You are asked to bring Holy Water with you to bless your own grave at the time. Please spread the word to family and friends.
There are a number of different ways in becoming involved in our Parish Faith Community at present: We are currently seeking Ministers of the Word. This Ministry at present involves Ministering the Word of God at Mass on a rota basis on a Saturday evening 7.30pm or Sunday morning 11am, on Holy Days of Obligations and Liturgical Celebrations such as Christmas & Easter. You will receive your preferred day/time on weekend Masses. New Ministers will receive a Missal with all readings in it.
We would like to continue to grow our Ministry of the Word Group and to develop more opportunities for people becoming involved in our Parish Liturgical Life. A warm welcome and support will be there too. If you feel you can assist and become a Minister of the Word for our Parish, please contact us before Sunday 4th of June in a number of ways: 1. Fr. Sean (041) 9838520. Mellifontparish@outlook.ie 2. Rebecca 086 8674242 or 3. Message us on our Parish Facebook Page Mellifont Parish-Tullyallen. All are welcome.
We are currently looking for more people to collect at our Weekend Masses 7.30pm Saturday and 8.30am and 11am Mass. It is difficult if there are no people to collect and if there is a big congregation for one person to collect. If you can assist with this, can you please drop into Sandra our Sacristan to give your name. Your help and support is greatly appreciated. Many hands make light work!
We are currently trying to develop an Adoration Team for Church: If interested contact 1. Fr Sean 041 9838520 mellifontparish@outlook.ie 2. Niall 086 3461087 or Message us on our Parish Facebook Page Mellifont Parish-Tullyallen
Link onto our Parish Facebook page Mellifont Parish- Tullyallen. If you are on our Facebook page like us, invite and share this information with others too. Spread the word that our Parish Facebook is active.
Well done Ann & Eric
Congratulations to our very own Ann Carolan on receiving the prestigious Mayoral Award in recognition of her selfless commitment to many volunteering roles within our community. Ann has campaigned for safer roads in the village, abseiled hotels for Irish Guide Dogs, been an integral part of the committee in setting up Belnumber Wood Walkway, is involved in the Tullyallen Tidy Towns, the Tullyallen Community Hall Restoration Group, and the Glen Emmets but to name a few. Ann sure is a busy lady with bags of energy and commitment to our village. Well done Ann.
And to add to the pride of the village, Eric Donovan now living in Tullyallen also received his award from Mayor, Michelle Hall on the same day. Eric's award was for his achievement in Boxing and work in Mental Health. Eric is now retired from boxing but continues to help others with Mental Health issues, self-discovery and reaching their potential. Congratulations Eric.
Glen Emmets Summer Camp
The ever-successful Glen Emmets Summer Camp is back again this year.
This year they will be hosting two camps in Cusack Park....with the Glen Emmets GPO Gerry Malone. Week One: 3-7th July and Week Two: 7-11 August. The camps will be on from 10am-2.30pm each day and is aimed at ages 6-12yrs. The Glen Emmets camp is always fun action packed with multi-sports and costs just €50 per week (5 days) but you would need to book early as places are limited. Contact by text on 086-1062153 & you can revolut the payment.
Rossin Rovers
Booking has now opened for Rossin Rovers AFC Summer camp. This camp is on 10th July to 14th July at their pitch in Monknewtown, Slane, Monday to Friday – 10am to 1pm and is aimed at boys and girls aged 6 to 14 years. Bookings are online, click on faifootballcamps.ie and they will point you in the right direction.
Glen Emmets All Stars
The Glen Emmets All Stars continues to be held on Saturdays 9.30 to 10.15am. This is a great initiative that welcomes children of all abilities into a safe, fun environment where they can practice ball skills, exercise, socialise and play. Contact 086-0758945 for further details.
Away Jersey Returns
It's that time of year again. The 'Away Jersey' competition is back…so if you are going on holidays…. or have already been…. send the Glen Emmets a photo of your or your family wearing Glen Emmets gear and they will post all entries on their facebook, twitter & instagram pages. All you have to do is: Take a photo of you or your kids wearing Glen Emmets gear on holidays (doesn't have to be abroad!) Send it to pro.glenemmets@gmail.com with the name and location. The winner will be drawn at the end of August and will win some Glen Emmets gear. So, get snapping.