Around the Districts: Broomfield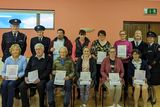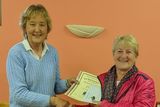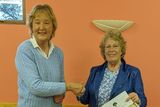 Contact
Contact Gerard on 087/2729154 or E-mail: starinaghgerard1@gmail.com if you have an item for this Column, please submit to me by 12 noon on Fridays, as the deadline for submission is 1pm on Friday, please note the change. The same deadline applies on Bank Holiday weekends. Get in contact please if you have a bit of news for this column! Thanks for your co-operation as always.
Best Wishes
The best wishes of Broomfield and District Residents Association, and the Community is extended to all who are hospitalised or ill at this time. We wish you a speedy return to good health.
Birthday Wishes
Belated happy birthday to Hughie Mc Quaile who celebrated his 90th birthday recently. A memory as sharp as a razor blade has Hughie. Only another decade to go until the Aras is calling with the big cheque Hughie.
Birthday Wishes also
Best birthday wishes also to Sandra and Robbie who celebrated significant birthdays recently too. A half a century is no joke! Sandra and her friend Sharon went Stateside to New York for a few days, and met up with another friend Fidelma who lives over there. Robbie went nowhere, just stayed at home and partied in Starinagh. We hope you all had a good time, you deserve it. Now, put surnames to all these first names.
Community Alert
The doughnut gang are at it again. Doing their stuff at a number of locations around the District and further afield. They are annoying people, particularly during the hours of darkness. Tyres and fuel is not half expensive enough! Please be vigilant at all times, and report anything suspicious to the Gardai. Dial 999 or 112 for best results. The Broomfield & District Text Alert number is: 086 2193103. Please sign up to the Broomfield & District Text Alert System if you have not already done so. Also, please advise Community Members new to the Disteict of the Text Alert System. If you are living close to a Community/Text Alert sign, please keep it clean, it would be greatly appreciated, and also send out a message to criminals that we have an active Community Alert in place. Thanks!
May Bush Competition 2023 Results
Is Place: Bernie and Molly Weldon, Starinagh. 2nd Place: Mary Murphy and Master Lewis Henry, Carrickenane. Joint 3rd Place: Nancy Roche and Tegan and Griffin Walker, Broomfield. Micky and Linda Dillon, Kellystown. Tanya, Ella and Mia Mc Quaile, Hoardstown. The standard was exceptionally high this year, giving the Judge a very difficult task. Thanks to all who entered the Competition and more importantly for keeping this age old tradition alive. Thanks in particular to Josephine for acting as Judge again this year. Buala boss all round. By the way, Hungry Hall Park got its very own May Bush this year for the first time.
The Tumbling Paddies
The Tumbling Paddies are in concert on Sunday 14th May at the Military Museum Marquee, Starinagh, Collon, Co. Meath. A92V4K7. What promises to be an excellent concert, starts at 4pm, featuring the popular 6 piece band the Tumbling Paddies. For information contact 041 9819501, for tickets irishmilitarymuseum.com
Next Social Dance
The next Social Dance in Teach Raithneach (A92W283) will be on Friday 19th May starting at 9pm, with Ray Murtagh providing the music. Raffle and light refreshments served. Everyone welcome.
Art Group News
Teach Raithneach Art Group, a peer-led group, continues it's activities for the Summer term on Tuesdays from 7.30-9.30pm Enquiries to Niamh 0878173073.
Yoga
Contact Grainne on 086 8046781 for further information or to book a place.
Pilates
Both Pilates sessions have resumed on Thursdays and Fridays after a little break. Contact Olivia on 085 8001328, livdonnelly@gmail.com for Pilates related information
Meath Public Participation Network
The first in person Plenary of Meath PPN takes place on Saturday 20th May at 11am in the Knightbrook Hotel, Trim.
A Plenary meeting is open to all member groups and is an opportunity to network, learn and help build the PPN together for communities in Meath. This is the first in person Plenary of Meath PPN in almost 4 years. Meanwhile, Meath PPN are delighted to invite you to a Meet and Greet for Laytown-Bettystown Municipal District Groups.
The event will take place on: Wednesday 10th May 2023 – 7PM-9PM in Millmount Museum, Drogheda (eircode: A92 VFH3). This will be a great opportunity to learn more about Meath PPN, discuss the upcoming Plenary and meet your Secretariat Representative. Tea, Coffee and light refreshments will be provided.
Green Kilo-meter
The Green Kilo-meter, a Meath Co. Council Initiative is up and running. Litter picking all year round is the name of the game. Do what you can to help please. Get in contact if you need a picker.
TUS Vacancies
Tús is a Community based work placement scheme for people aged 18 and over. TUS participants work 19.5 hours per week in good quality local settings with a minimum weekly payment of €247.50, while retaining all secondary benefits. There are Tus vacancies locally with Broomfield and District Residents Association. If interested contact Tus Supervisor Kenny on 046 9280790. There are also a number of vacancies, both CE and TUS, with organisations based in Collon Village.
Meath PPN
For the most up-to-date information from the Meath Public Participation Network, contact the PPN Team in the first instance on meathppn@meathcoco.ie or Email: meathppn@meathcoco.ie where you will find lots of information and more. The latest News and Updates were circulated on Thursday 20th April last.
Meath Local Sports Partnership
For the most up-to-date, MLSP information, give Lynn O'Reilly, a call on 046 9067887 or check out www.meathsports.ie
Community Enhancement Funding
The Department of Rural and Community Development have informed in recent correspondence that it hopes to run another Community Enhancement Programme later in 2023. Details ahve yet to confirmed. A range of supports will be available to Community Organisations.
Space available
There is ample space available in Teach Raithneach for all types of Fitness and Well-being Classes and Activities. Tutors/Instructors in these types of activities, please take note. Are there any, Music Teachers out there who would be interested in teaching how to play a musical instrument at Teach Raithneach? Contact the Secretary on 087 2729154 for further information.
The Teach Raithneach Aircode is A92 W283.
Sheepdog Trials
The Ballymacan Sheepdog Trials are set to take place on Sunday 16th July. More information closer to the date. Get Rover, Rex and Roxy match fit!
Keep in Touch!
Please keep in contact with your relatives and neighbours, especially the elderly, and those living alone, and do what you can to help. A phone call will always be welcome.
Contact Broomfield and District Residents Association Secretary on 087 2729154. Please check out the Broomfield & District Residents Association Facebook page.