Around the Districts: Bettystown, Laytown and Mornington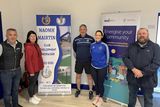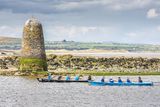 Contact
Any news or items of interest contact Niamh @ 086 3477283 or email niamhuiloinsigh@gmail.com.
Bettystown Tidy Towns
If you'd like to get involved message us on Facebook and Instagram @bettystown_tidytowns or come along and meet us in the village on Saturday mornings between 9 and 11am. Come and join us!
Bettystown Tidy Towns Volunteers have added the finishing touch to two of their recent projects: the Burrows Boardwalk and the 'Splash!' Statue.
Thank you to Val Darcy, Budget Signs, for designing and donating these signs to Bettystown Tidy Towns.
Coláiste na hInse
Coláiste na hInse's IBs were very busy at work tidying the An Gairdín Cuan (the quiet garden) this afternoon. They were raising the beds and getting a few plants growing as we make our way through spring. A huge thanks to Iníon Emmett, Iníon Langley, and our newly formed Garden Club for their hard work.
Meath Crime Prevention
An Garda Siochana would like to remind the public, especially tradespersons, to be security conscious when parking their cars/vans. The appeal comes after a number of thefts from vehicles occurred yesterday in the Meath Division.
The incidents occurred in the Kilbreck Stamullen area between 3am and 7.30am, Sarsfieldstown, Julianstown area between 10am and 11am, Smithstown, Julianstown between 4pm and 5 pm. ,Tara Road Bettystown area between 7.30am and 3.30pm and Main Street Clonee area between 1pm and 3.30pm. Cars are now being targeted and youths can be seen on CCTV checking to see if they are open.
East Meath Bridge club
Congratulations to Paul and Alice Kane on winning the Peggy Smith Trophy which was presented to them by Margaret Smith. Well done!
Games on the Beach
Games on the Beach will be returning once again to Bettystown this July so dust off your bucket and spade and get ready for a full day's action of beach activities! Meath LSP in collaboration with Foroige & East Coast Family Resource Centre will host a festival of beach sporting events such as Beach Volleyball, Rounders/Cricket, Beach Handball, Soccer and more!!! Suitable for children and teens (8-17yrs), this is an ideal opportunity to try out a variety of sports on one day.
East Meath Boxing Club
Fitness training and circuit training for women of all ages and fitness in East Meath BC opposite the Neptune Hotel in Bettystown
Run by past experienced boxer Lillie Keogh. Tuesdays 6pm-7pm. Thursdays 6:30pm-7:30pm. Five euro a class. All you need is a bottle of water, towel, gloves for the bags and yourself!!
Weekly boxercise classes are running in East Meath Boxing club in Bettystown for anyone that's interested. We have men's and women's classes on multiple times a week. You can use the following link to book yourself in http://buk.ie/jd
St. Colmcilles GAA, Pilltown Road
What a weekend our U7s girls had. Last Saturday 11 young players made their way over to Bective, the sun shone; it briefly felt like summer until the downpour. The girls continued their mission to get the ball moving on the pitch, undeterred by the heavy rain.
On Sunday 21 young players made their way over to Walterstown.
Despite mucky conditions our girls got stuck in, and played well, while trying to stay upright.
At the end, it looked like a scene straight out of hell & back.
It was great to see all the girls implement their skills from training. They really came together as a team and are all looking forward to their next match.
Our Gaelic for All Group are back in action since April 29th. This group provides Gaelic games for young people with additional needs. It is on every Saturday at 10.30am and we are delighted to have our existing members back and look forward to welcoming lots of new members. If you have questions or want to get involved please contact Ken on 087-6349162.
Best of luck to our adult teams in their upcoming games. Our ladies second team are at home on the 10th of May against Navan O'Mahonys.
All our teams are now back training for the 2023 season. All children aged 10 and above up to adult level are back training midweek.
If you want to get involved, just make contact via any of our Social Media channels and someone will get in touch with you.
A reminder that we cater for boys and girls born in 2014 through to 2019 at our Sunday morning Academy. It takes place every Sunday at our pitch in Piltown from 9.30-12.30. Come along and give it a try, you and your child will make new friends and learn something new! Our Hurling Academy takes place Monday evenings from 6pm in Piltown, as with everything else in St Colmcilles, everyone is welcome to come along. If you have any questions reach out to us on social media.
If you are returning, or have never played before, you are welcome to come and join us. Again, if you want more information, reach out via our social media channels and someone will come back to you.
Men's Shed
Meath East Coast Men's Shed meets every Tuesday and Friday in the grounds of St. Colmcilles GAA on the Pilltown road. For more details contact James 0872706456 or Eoin 0860649447
LAYTOWN
Contact
Any news or items of interest contact Niamh @ 086 3477283 or email niamhuiloinsigh@gmail.com
Laytown Tidy Towns
Volunteers meet every Saturday morning at the car park outside the Coast Tavern from 10 am. to spruce up different areas of our village. Great work is being carried out by Laytown Volunteers and if you would like to help, please come along, and join us.
Laytown Tidy Towns
Volunteers are a great team and were very busy creating two wildflower beds on the Laytown Road, as well as planting sapling in new beds all of which were made by Meath Coast Mens Shed. They finish off their work with a much deserved coffee and chat.
Men's Shed
Meath East Coast Men's Shed meets every Tuesday and Friday in the grounds of St. Colmcilles GAA on the Pilltown road. For more details contact James 0872706456 or Eoin 0860649447. Here we give a list of items made for our local community in East Meath – Two benches for Laytown National School, a beautiful seat for Gormanston with the inscription 'Rest a While', bee and bird boxes, and recently commissioned to make four magnificent, raised beds for Julianstown Community Garden. We have also made the new raised beds for Laytown Tidy Towns. Give us a call anytime and let us know how we can help. Shop Local!
Active Retirement
East Meath Active Retirement Association (EMARA) meet every Thursday in St. Mary's Church of Ireland Parish Rooms, Julianstown from 2.30 pm to 4.30 pm each week. New members are always welcome to join this vibrant group of men and women. We have many events and outings lined up for the coming month. For more details contact James 0872706456 or Eoin 0860649447
Sonairte
We are here from 10 to 5 today on Fridays and have freshly harvested organic vegetables available in the Eco shop along with some fab sustainable items that will help make you become part of a more sustainable planet.
Our Cafe is also open Friday, Saturday, and Sunday. We will have our usual great selection of vegan and vegetarian cakes with great tea and coffee.
It is also a great time to visit our walled garden and nature trail and see how Spring has brought a fantastic array of new foliage.
We are thrilled to be teaming up again with the fantastic @toogoodtogo.ie for 2023.
So, each Sunday depending on surplus produce you will be able to order Surprise Bags at a great price, they will be available for collection on Sundays between 16:00 and 16:45.
Just download the app and see what amazing savings you can avail of and help to reduce Irelands food waste.
MORNINGTON
Contact
Any news or items of interest contact Niamh @ 086 3477283 or email niamhuiloinsigh@gmail.com
Crime Prevention
Several cars have been broken into in Maydenhayes in recent days. Several youths can be clearly seen going around cars and checking to see if they are open and then searching for whatever they can find. Please be vigilant and remember to lock your car at night as you may not be covered by your insurance company.
Mornington Tidy Towns say a 'Big Thank You'
A supreme well done to local 3 year old resident Léa for picking up all the rubbish between her home and Pugwash Bay Mornington !!! .
Star of the Sea
To help Fr. Joseph and the Parish Pastoral Council to identify the pastoral needs of the Parish, a suggestion box has been placed in the Church. We welcome suggestions from all parishioners.
Dates for Your Diary -First Holy Communion:
Saturday 13th May 10.00am: Donacarney Girls N.S.
Saturday 13th May 12 noon: Donacarney Boys N.S.
Please drop your Trócaire Box, Trócaire Envelope, Church Envelopes and Easter Dues for the Priest into the Parish Office on Monday, Wednesday, or Friday from 10am - 2pm.
World Youth Day 2023 (1st-6th August) will be celebrated in Lisbon, Portugal. It is a massive weeklong event, with Pope Francis, for young Catholics (aged 18-35) to gather and participate in from every corner of the world.
Follow www.dioceseofmeath.ie & Facebook: Meath Diocese WYD. Watch this space for more info in the coming weeks. (See posters in both churches for more information).
For more details see www.dioceseofmeath.ie. Cost €650 approx. All expenses included. To book contact meathyouth@gmail.com
Sincere Sympathy
Condolences to the family and friends of Anne Wilde (née O'Hagan) Bar View, Crook Road, Mornington, Co. Meath. Ar dheis Dé go raibh a h'anam .
East Meath Meals on wheels.
Hot Meals are delivered to your home between 12.30 and 1.30 Monday, Wednesday, and Friday of each week throughout the year, excluding Bank Holidays. Areas covered are Laytown, Bettystown, Mornington, Donacarney and Colpe. The charge is €5 per person per meal and if you would like to avail of this service, please contact us on 085 7570810.