Links forged between Drogheda and District Chamber and Chinese during Louth visit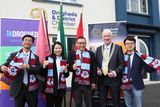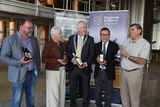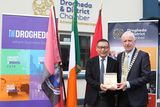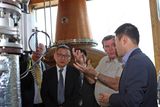 Drogheda and District Chamber has formally opened links with one of the fastest growing regions in China with a delegation from Sichuan Tianfu New Area, based close to Chengdu City, visiting the town this week.
The local government officials and members of the funding group revealed that Drogheda, London and Zurich were their only interested sites during this visit.
Headed by Mr Fan Shi, the delegation were given an overview of Drogheda by Chamber President Hubert Murphy, who outlined the potential of the area in terms of industry, investment, culture and sports.
The party were very interested in the plans for the northern cross route., which includes a sports campus, housing and the IDA park being developed nearby.
"In terms of population and vastness - they are dealing with hundreds of billions of euro in Tianfu - we are very different in scale, but the vision to make both areas a sustainable, living region is a common factor and they appreciated that," the president stated.
They were given a rundown on what Drogheda has to offer in terms of the Fintech Corridor, its location beside the airport, a great port route and being halfway between Dublin and Belfast, and they were impressed with what could be delivered.
The group also visited Pat Cooney at Boann Distillery and also met Bronagh Conlon from Listoke Distillery and Olan McNeece from Dan Kelly Cider.
"We see this as the start of a great journey between Drogheda and Sichuan Tianfu New Area and we will be sharing ideas and projects as part of that. It's time Drogheda rose from the shadows to become that thriving place to live, work and enjoy the very essence of a good life in all its forms. We have it all and for one of the most progressive locations in the world to recognise that is something we should be proud of,' the president added.
Chamber Vice President Linda Ennis, Ken Rooney, Robert Murray and Skillnet Manager Joe Lynch and the chamber staff were all part of the local delegation that delivered a very professional welcome for the visiting group.
The Chinese party representing Tianfu - a project formally backed by President Xi Jinping - included Mr Fan Shi, Director of Finance, Fan Tao, committee secretary, Zhang Jie from the Finance Bureau and Zhong Mengzhen, a director in the investment sector.
A team from Drogheda has now been invited to travel to China to forward the links.