Katie Taylor fights tears after emotional letter from Deirdre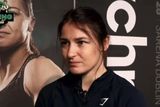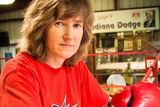 Alison Comyn
Drogheda Independent
World Champ boxer Katie Taylor fought back tears on Monday as a letter of support was read to her from Drogheda's own boxing hero Deirdre Gogarty.
The undisputed lightweight world champion was speaking to Monasterboice man Ciaran McIvor, founder of Boxing Bants podcast, when he read the emotional words of support to Katie, causing her to choke up.
The Mornington native, who now fights from America wrote:
"It is only for all the success you have had in your career that any attention has come back to me.
"When I opened a door for Irish women in professional boxing it wouldn't have meant anything if you didn't run through it.
"If you hadn't taken women's boxing to another level then my world title and battle with Christy Martin would have just been for myself and not for women in the sport.
"I'm truly grateful for what you have done for the sport and the country as it's only brought more eyes to all of us trailblazers.
"I will end this with the same message you sent me as an 11 year old,
"You have achieved so much, and done us all proud, bye for now, Deirdre."
Blinking back eyes filled with years, Katie, who was announcing details of her forthcoming fight with Chantelle Cameron on May 20th in the 3 Arena.
"It's hard to compose yourself after hearing that, they are special words from one of my idols and pioneer of the sport, so that means so much to me," said Katie, after a pause where she choked back tears. "You'll have to send it over to me so I can actually frame it!"
A committee is trying to raise funds to erect a statue of Deirdre in town, and tickets are available on eventbrite for "An evening with Deirdre Gogarty" on May 19th in the Crescent Concert Hall to raise funds.].