Highlanes workshops as Jean Ryan explores Diana Copperwhite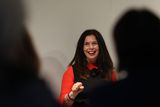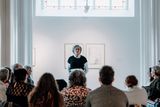 There are two special events taking place in the Highlanes Gallery these coming weeks, and book early to avoid disappointment.
The Highlanes team is pleased to present an evening masterclass with Artist Diana Copperwhite on Wednesday March 19th at 7:30pm to 9pm. Join her within her major touring exhibition Onomatopoeia to look closely at her artwork, find out how she works from small to large scale, her use of colour and to hear more on her thoughts and practice in this practical painting session.
Booking required, numbers are limited, places €20 per person. All materials supplied. Booking available on www.Highlanes.ie & Eventbrite
Then returning again now in 2023, Jean Ryan brings you closer to the ideas, thoughts, processes and theory considering our temporary exhibitions on Saturday 1st April, 12pm to 1pm in Highlanes Gallery.
Jean Ryan is an art historian who is interested in exploring the topic of creativity in the visual arts. She aims to show how artworks are the end product of multiple decisions artists make when creating their work. The first talk sees Jean focusing on Diana Copperwhite's exhibition, Onomatopoeia, running now until the 15th of April.
Please note places are limited and are charged €5 per person booking available on www.highlanes.ie & Eventbrite.