Garra Road is a 'nightmare'
'A driver received serious head injuries requiring hospitalisation and the wall outside my home was completely destroyed. The construction of the wall had just been completed one week previously after being knocked down last October'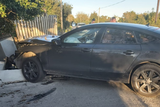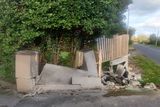 Hubert Murphy
Drogheda Independent
Major safety concerns have been expressed about the ongoing number of accidents on the Garra Road at Mornington.
One local home has had to repair a damaged wall on a number of occasions, with the latest incident showing how crazy the situation has become.
'The most recent accident occurred on Friday 2nd October. A driver received serious head injuries requiring hospitalisation and the wall outside my home was completely destroyed.
'The construction of the wall had just been completed one week previously after being knocked down last October in another car accident where three people required hospitalisation with serious injuries,' local resident Daire Reynolds remarked.
'Each time we have rebuilt the wall it has been knocked again and this has been at extreme stress and cost to my family as insurance will not always cover the full costs. Every time somebody leaves or enters my home they are putting their lives at risk due to the dangerous status of the road.
'My family is unable to use our front garden due to this issue and even something as simple as cutting the grass has become a risk to us.'
Incredibly, the wall at the Reynolds home has been knocked down every year for the past five years, with numerous other incidents along the stretch.
All have been reported to the gardai.
The concern of all the residents on the road is that someone will ultimately be killed and then what happens?
Residents say they have contacted the council on numerous occasions, but without the feedback they need to make the stretch safer.
Indeed, the speed limit went from 60km/h to 80km/h!
'Each time there is an accident it is a considerable waste of resources with Fire Brigade, Garda and Ambulance resources all required to attend,' Daire explained.
Like many residents in this part of East Meath, they feel that the infrastructure has not come with the rate of development, once country roads, used by a limited number of vehicles over the last few decades have now become main routes.
The bends on the Garra Road are seen as a huge issue and one that will not go away. Residents only see the situation getting worse as more developments beckon at Cople and Donacarney.
'It is horrifying for people to have to come out from their home on a regular basis to attend to accident victims,' Daire stated.
Residents have appealed to councillors and the council to tackle the situation before tragedy strikes.