Drogheda Mayoral Award winners give outstanding service to local community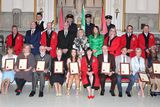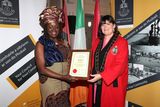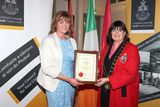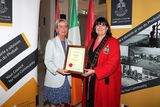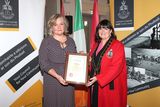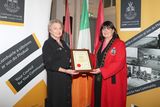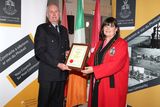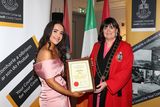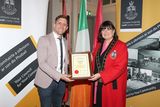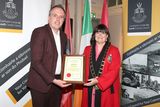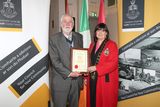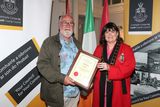 Louth County Council celebrated the contribution and achievements of eleven inspirational Drogheda people at the annual Mayoral Awards which took place in the Highlanes Gallery, Drogheda on Monday, May 15th.
The awards which are set by legislation under Section 74 of the Local Government Act, as a reserved function, saw Drogheda Borough District Elected Members nominate eleven recipients for the 2023 Mayoral Awards.
Following a nomination and consideration process; awards are granted to persons who demonstrate outstanding service to the community over a period of time, and/or who represent the community nationally or internationally.
The nominees are those who put Drogheda on the map and stand out for helping make and maintain Drogheda as a great place to live.
Compere for the event Susan Deery, Administrative Officer, Louth County Council, congratulated all nominees and welcomed Louth County Council Fire Service who conducted their Colour Party.
The event was attended by award winners and their invited guests, along with elected representatives and officials from Louth County Council.
Chief Executive of Louth County Council, Joan Martin congratulated all those who received awards on the night, saying: "This is an incredible achievement for each and every person who was nominated for an award this evening, and it is hugely significant that you have been chosen from the population of Drogheda and its environs."
She added: "As a public servant for the last 45 years, I want to recognise the work that you have done in serving your community, and the dedication you have shown with your leadership and assistance in your own local area."
Mayor of Drogheda, Cllr. Michelle Hall, who presented the awards on the night said: "We celebrate your commitment to improving the community of Drogheda and wider area and many of you do this in a voluntary capacity. We recognise the work you do to empower others, children and young people, older people, people of a migrant background, workers, female students.
"You work to protect our natural environment, protect our flora and fauna, and you remind us of the delicate nature of our planet and ask us to mind it better. You raise the voices of the silent. You record the faces of our residents. We recognise your contribution to improving lives through your skills, experience and perseverance."
Hands for Unity CLG
Founded in 2019 in Drogheda, they were awarded for their efforts to create a more inclusive, equal and open society by engaging in activities that foster a better understanding of different ethnicities, religions and cultures.
Austin Byrne
Austin was presented with an award in recognition of his voluntary efforts and significant contribution to the Trade Union community in Drogheda.
Aíne Walsh
Aíne was awarded in recognition of her decades of advocacy, volunteering and visionary work in the conservation and protection of Drogheda's natural environment.
Ann Kierans
Ann was recognised for her dedication to the support of older people in Drogheda and the surrounding areas.
Eric Donovan
Eric was awarded for his achievements in the sporting arena of boxing and his work in the area of mental health.
Development Perspectives
The group were presented with their award in recognition of their promotion of the UN Sustainable Development Goals through their projects and for growing a Drogheda based charity to an international and award winning organisation.
Chloe Kelly
Chloe was awarded for her work in founding Ballsgrove Youth Club at 17 years old, whilst studying Community Work in Drogheda Institute for Further Education.
Ann Carolan
Ann was awarded in recognition of her many volunteering roles in her community of Tullyallen, and her campaigning on behalf of the community.
Andy Spearman
Andy was presented with an award in recognition of his long career in photography and journalism whilst upholding the values of justice, equality and human rights.
Alistair McAlistair
Alistair was recognised with an award for his decades of voluntary service to the Tidy Towns movement in Drogheda and County Louth.
Soroptimist International
Awarded for their continued efforts to inspire, action and create opportunities to transform the lives of women and girls through a global network of members and partnerships in 121 countries.