Delayed East Meath Primary Care Centre on target for August 2023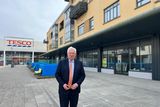 Alison Comyn
Drogheda Independent
Louth and East Meath TD, Fergus O'Dowd, has received an update from the Chief Officer of the CH08 area that the much delayed East Meath Primary Care Centre is expected to be operational by August of this year.
The project had experienced a number of delays but following successful negotiations between the HSE and the proposed developer, the HSE entered into an Agreement to Lease for the premises which is located adjacent to Tesco.
"The HSE have also confirmed that the contractor is due to handover the premises to the HSE in the coming weeks. This vital project for the East Meath area has obviously been hit with multiple delays but it's a relief that we now have the finish line in sight," said Deputy O'Dowd.
"Over the summer months the HSE will begin equipping and commissioning the facility to ready it for the August opening".
The centre when fully operational will provide a wide range of much needed services in the area including Public Health Nursing, Psychology, Speech and Language Therapy, Occupational Therapy, Physiotherapy, Social Work, Counselling, Podiatry, Diabetes and services for Older People.