Art commission installed at Louth County Council's controversial St Peter's Hill project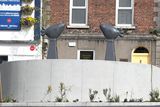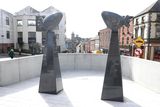 Alison Comyn
Drogheda Independent
The next phase of the St Peter's Hill meeting square has begun, with the recent installation of the artwork selected to adorn the Louth County Council project.
The design called 'Inspired to Meet' was created by British-born stonecarver Michael Disley, who has made over 100 public works all across the UK and Ireland in the past 25 years.
The tendering process took place last year, as part of the EU Peace IV-funded commission in conjunction with the planned re-design of the space at Peter's Hill, which aims to establish a new shared meeting space and to create a new identity for this area within Drogheda's Heritage Quarter.
Artists were invited to consider ideas relating to light, incorporating light, regenerative fire, regeneration, renewal, coinciding events, church bells, sound waves, growth and regrowth, or other concepts relating to Drogheda communities, collaboration and inclusion, giving tangible form to aspects of meeting spaces.
Three artworks were submitted and as part of the community engagement and participation, members of the public were invited to give their views on which of the three design proposals would be their preferred choice.
As with the first phase of the project, which included concrete seating and a curved wall, public reaction has been strong and divided on what have been called Fingerbob Mice, Daleks or Balloon Animals on Spikes!
However, many are now reserving judgement on the current phase until planting begins, and whatever the final result, it is bound to get people talking, but above all, using the public space for healthy and positive pursuits.