Appeal for Louth supermarkets to take urgent action as more than 30 trolleys dragged from River Boyne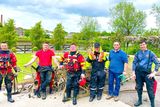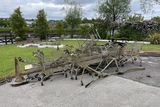 Alison Comyn
Drogheda Independent
Boyne Fisherman's Rescue and Recovery Service recovered more than 30 shopping trolleys from local supermarkets on a recent sweep of the River Boyne.
The items can cause serious damage to vessels and wildlife, and one local councillor is calling on the shops to take urgent action.
Independent Councillor Kevin Callan has said that the issue of shopping trolleys being dumped in the River Boyne has reached its worst ever level and that action is now required to get those who own the trolleys to have them returned to their premises so as not to cause an environmental and safety issue in the River.
Councillor Callan was on the Marsh Road at the Rescue Groups boathouse to help Boyne Fisherman's Rescue and Recovery Service on one of their regular clear ups. The effort involved boats and crews physically removing trolleys from the banks and centre of the river channel.
"This is a really serious issue as these trolleys are practically invisible to divers when they are involved in recovery operations and are effectively a serious risk to life," said Cllr Callan.
"Further to this, trolleys in the river channel at low tide can cause serious damage to rescue vessels and crews if travelling at speed to assist a person in distress. The levels of dumping have increased and this absolutely irresponsible action needs to be targeted and those involved face the full fines and penalties".
Praising the efforts of The Fisherman's Rescue Group, Cllr Callan said that he would be placing a notice of motion on the agenda of the June Meeting of the Borough to call on Louth County Council through its litter and environment sections to sit down with the supermarkets to address this issue and their responsibility to account for their property. These volunteers who already do such amazing work for our community are totally disrespected by those who put them at further risk when they navigate the river to help in difficult enough circumstances.
"With over 30 trolleys removed from the river in one day, it is evident that each trolley posed a risk, that each trolley was taken at effort to locations like Dominic's Park and were then fired into the river or at bridges," says Cllr Callan. "This is not an easy thing to do and in many cases it's clear this was done passing the Garda Station, we need to get tough on this anti-social behaviour but we also need the shops who own these trolleys to act, it's not acceptable that it's left to volunteers to clean up their property".