€50,000 secured from Louth County Council for outdoor gym equipment at Glen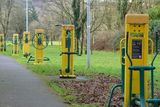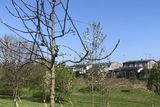 Outdoor gym equipment is on its way to the northside of the town, with the news that €30,000 is being funded by Louth County Council to provide a public facility in the Glen.
Cllr Pio Smith has warmly welcomed the development, as he has raised the possibility of such equipment for the northside park at the March Drogheda Borough District meeting.
"The Glen is a beautiful little haven on the North Side of Drogheda. I have worked with Drogheda Tidy Towns and the Red Door Project to ensure that a significant number of fruit trees and blackthorn hedging was planted in order to increase biodiversity in the area. The next phase is to make the Glen more user friendly," said Cllr Smith.
"There is gym equipment in St Dominic's Park but nothing on the North Side. I was contacted by a number of residents in the area asking that gym equipment be installed as it would greatly benefit everyone particularly senior citizens by helping people become more active in the spring and summer months."
Louth County Council has now applied for €30,000 to purchase and install outdoor gym equipment in the Glen area.
"As well as helping people to get fit and healthy the equipment will by its use mean that passive surveillance will occur and should further deter anti social behaviour from taking place in the area," added Cllr Smith.