€5,000 boost to Drogheda Animal Rescue from Movement for Good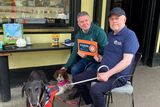 Alison Comyn
Drogheda Independent
Homeless local charity Drogheda Animal Rescue (DAR) has received some good news as they have been chosen among ten animal welfare charities set to receive donations of €5,000 as part of the Movement for Good Awards.
Drogheda Animal Rescue in Co. Louth provides shelter and care to abandoned, strayed, neglected, abused, and injured dogs and cats. The organisation nurtures the animals before finding them new homes. It promotes responsible pet ownership and awareness of animal welfare in Ireland.
However, they have had no permanent home since they were forced to leave their last premises in Scholes Lane.
This donation will provide a boost to their efforts to find a new location for their invaluable service.
"Drogheda Animal Rescue is delighted to have been awarded €5,000 as part of the Movement for Good awards and this would not have happened without the support from our followers and those who are familiar with the rescue work we do," said Lisa Martinez, Chairperson and Charity Trustee for Drogheda Animal Rescue.
"DAR is a registered charity run solely by volunteers who give up much of their time helping animals in need. We work 365 days of the year as rescue work is not a 9 to 5, Monday through Friday type of job. An animal needing help can happen at any time – day or night".
DAR also helps promote responsible pet ownership, and we are working on rolling out two new initiatives: Microchipping of Cats and Discount Neutering Scheme for Cats. Both of these initiatives will be aimed towards the pet cat owner.
"Many animal rescues already provide these services, and DAR would like to do so as well for the local community, however it will come at a cost to the rescue," added Lisa. "With the €5,000 award from the Movement for Good, this money will be used to fund these two very important initiatives and could not have come at a better time!"