Gaelcholáiste TY students tread the boards for 'A Family Affair' in Tralee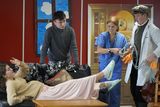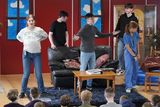 Transition year (TY) students from Gaelcholáiste Chiarraí in Tralee did themselves proud recently as they staged a brilliant production of 'A Family Affair' which was written and directed by Mary Quirke of Qwerkreation Productions.
The young thespians had spent weeks and weeks rehearsing for opening night and it all certainly paid off on as they treaded the boards with confidence and ease, earning themselves deserved applause from the audience.
The comedy continued last year's story of Audrey and Davy's doomed relationship and the drama that ensues when Audrey has an unexpected bun in the oven! The students played each of their parts with the skill and professionalism of a Hollywood star and the crew backstage kept everything running smoothly.
"We are extremely grateful to all those who supported us in the run up to the show, attended and helped to make the night such a huge success. We'd like to especially thank the staff and students in Mercy Mounthawk and Coláiste Gleann Lí who attended a special matinée performance before the big show," said Eibhlín Ní Mhuircheartaigh.
In addition, Eibhlín paid a huge thanks as well to all those who generously donated items to the raffle on the night with a special congratulations being paid to Muintir Uí Bhriain who won the big prize of the night.