Griffin hat-trick inspires St Brendans Park to Under 12 title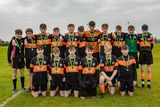 The John Murphy semi-finals took place in mid-week with the final on Monday.
In the first of the two last four games a Calvin O'Sullivan goal was enough to see St Brendan's Park defeat Killarney Athletic and book their place in the final.
In the second semi-final Listowel Celtic made the trip to Mort Scott Park a winning one to join St Brendan's Park in the final. Their goals came from Dáithí Laide and Shane Costello with Dylan Fitzgerald replying for Ballyhar.
The final which took place in Mastergeeha and it was the Park that took the lead in the first half through Shane Griffin. However, they were pegged back just before the break when a Listowel Celtic break following a Park corner saw Thomas Keane make it 1-1.
That's how it stayed until extra time when St Brendan's Park took over. Griffin got his second and this was quickly added a third to complete his hat-trick.
Calvin O'Sullivan was the next Park player to score and the Park were now in total control with Kylan O'Carroll and O'Sullivan adding two more goals late in extra time that sees the John Murphy Cup heading to the Park's trophy cabinet in Christy Leahy Park. And their player Adrian O'Connor was named the Player of the Match.
Shield 
Monday night saw both semi-finals taking place. In Mort Scott Park MEK Galaxy A got the better of the home side. Killian O'Sullivan scored for Ballyhar Dynamos but goals from Eoin Casey (three), Cade Jameson (two) and Shane O'Neill saw MEK reach the decider.
They were joined in the final by Fenit Samphires who were 3-0 winners at home to Dingle Bay Rovers. The West Kerry side were unlucky as two of the Ballyhar goals were deflections of the defenders with Cillian O'Brien getting their third goal that saw them into the final.
JOHN JOE NAUGHTON UNDER 13 CUP
With the s Cup named after John Joe Naughton the unique pairing of St Brendan's Park A and St Brendan's Park C in the final is probably apt.
The A's booked their place on Tuesday night when goals from Jack Daly (two), Edison Jahiri (two) and Shane O'Donovan saw them defeat MEK Galaxy whose goal came from Seán Clifford.
And for a minute there looked like their could have been an up-set when the Cs (the Park's 12 A team) went ahead through Calvin O'Sullivan
And for a minute there looked like there could have been a Final up-set when the Cs (the Park's 12 A team) went ahead through Calvin O'Sullivan.
However, Danny Kingston levelled the game from a corner by Edison Jahiri. Daniel Farmer added a second and Kingston headed home his second and the Park A's third before the break.
Kingston completed his hat trick and Farmer added a second, along with goals from Johnny Neilings and Edison Jahiri, and the As became the holders of the Cup.
Shield 
With Killarney Celtic waiting in the weekends final Monday night's semi-final between Inter Kenmare C and Ballyhar Dynamos needed extra time for the winner to be decided. In the end it was Ballyhar that took the win thanks to an own goal and a winner from Daniel Downes.
A tough semi-final earlier in the week set Ballyhar Dynanmos up for the final of the Shield. And they took the trophy back to Mort Scott Park thanks to goals from Daniel Downes, Conor Edwards and Conor Foley in a 3-0 win over Killarney Athletic.
HEALY FAMILY UNDER 15 CUP
Neal O'Shea scored for MEK Galaxy and Neal O'Shea with the final the looking to be heading for extra time. However Dawid Grebowic had other ideas and he struck late on to give Inter Kenmare the narrow win.
BOYS UNDER 12 LEAGUE
Premier
There was action across the week. Mastergeeha secured fifth spot with a 4-2 home win over Castleisland. Their goals came from Alan O'Leary, Dean Moynihan and Patrick O'Donoghue while Adam Griffin and Joey Kelly replied for Castleisland.
Two goals each from Mattie Miles and Timmy McGann saw Inter Kenmare come from behind to defeat Castleisland after Dean O'Donoghue had put them ahead.
BOYS UNDER 15 LEAGUE
Premier
Killarney Athletic knew that a win over the side in second place would give them the 15 Premier title with a game to spare.
And in the end a 2-0 win over Killorglin in Woodlawn gave them the result they needed and the Premier title. The Athletic goals came from Luke Doolan and Evan Doona.
Team of the Week
Jack Collins
St Brendan's Park U13
Danny Kingston Daire Connolly Tony Desmond
St Brendan's Park U13 Ballyhar Dynamos U12 Inter Kenmare U12
Luke Doolin Dean Moynihan Shane O'Donovan Conor Curley
Killarney Athletic U12 Mastergeeha U12 St Brendan's Park U13 Listowel Celtic U12
Padraig O'Sullivan Eoin Casey Joey Kelly
Ballyhar Dynamos U13 MEK Galaxy U12 Castleisland U12