Five-goal Kerry Under 13 girls see off Louth in inter-league quarter-final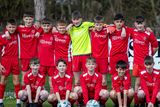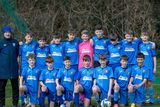 UNDER 13 GIRLS INTER-LEAGUE BOWL QUARTER-FINAL
Louth 0
Kerry 5
Kerry made the long trip to Dundalk Sports Centre on Saturday and on a perfect afternoon for football Kerry got a dream start after nine minutes when Nessa Kirby combined with Maja Wolska for Casey Shanahan to score from six yards.
Kerry's defence of Abbie Fleming, Daisy O'Donnell, Aoibhinn O'Callaghan and Nessa dealt admirably with anything Louth threatened during the first half. Kerry, through Maja and Evanne Mason kept a tight grip on the game as keeper Clodagh Quirke showed good hands when called upon.
It was just before half-time before Kerry got their second. Hard work by captain Izzy Lyons, Amy Rose Shanahan resulted in Eilidh Cregan's effort going out for a corner. Maja delivered a great ball into the box which was dispatched on a half volley by Nessa with great style.Kerry were up by two at half-time
Kerry management brought on substitutes and a lovely ball from Evanne Mason saw Eilidh Cregan sprint clear to finish and put Kerry 3-0 up.
Ava Fealy, Erin O'Sullivan and Shannon O'Sullivan in goals kept things tight as Fluer O'Neill and Meabh Kennedy went about picking clever passes to the forwards from midfield.
A free kick from Maja was headed clear only to Izzy and the Kerry Captain finished well to make it 4-0. With Saoirse Brosnan, Leona Meaney and Ella Murphy running hard at Louth ,Leona hit a glorious ball to Ella who blasted to the back of the net for the fifth and final goal.
A great thanks to Louth for a sporting game and to their coaches and parents for a delightful spread of treats afterwards, which help shorten the trip home.
Thanks to the Kerry parents, in particular those who travelled and gave great support to the girls, greatly appreciated. Thanks to the bus driver Lee who was so accommodating and shortened the trip going home with music.
KERRY: Shannon O'Sullivan, Clodagh Quirke,Abbie Fleming, Daisy O'Donnell, Erin O'Sullivan, Nessa Kirby, Aoibhinn O'Callaghan, Ava Fealy, Meabh Kennedy, Maja Wolska, Evanne Mason, Leona Meaney, Izzy Lyons, Ella Murphy, Casey Shanahan, Eilidh Cregan, Fluer O'Neill, Amy Rose Shanahan and Saoirse Brosnan
UNDER 15 GIRLS CUP SEMI-FINAL
MGL North 2
Kerry 1
Kerry made the long journey to North Dublin, each team looking for the win to reach the All Ireland Cup Final.
Both teams were very evenly matched, and gave it there all. Kerry started well and had a chance in the first 10mins from Phoebe OShea but was saved by the opposition's goalkeeper.
Both teams kept battling for every ball with a few chances for both sides unfortunately MGL went ahead 20 minutes in with a long, high shot from the edge of the box, which just crept into the top corner. Score stayed 1-0 to the home side at half-time.
Kerry came in at the break full of confidence and adamant they were not giving up. The started the second half as planned and equalised after tn minutes of the second half from a very well worked play from defence through midfield to find Phoebe again and this time she found the back of the net.
Kerry made a few changes which strengthened the side even more and they continued to press and upset the MGL defence. Kerry came close to scoring again on minutes 16 and 24 withy close chances from Klaudia Merchel and Jocelyn Cushen.
Ten minutes from the end, the home team were awarded a penalty which they converted. This Kerry team worked tirelessly right until the last second, with three corners and getting some good corners into the box, but time ran out.
This group of the girls have made fantastic progress in the last three years, finishing 15th place in 2021, 10th place in 2022 and now third place in 2023.
They're looking forward to competing for the top place next year. Although the girls and coaching team are disappointed, they have a very exciting trip to Milan, Italy for the Yes Cup Tournament to look forward to over the Easter Break.
UNDER 13 BOYS NATIONAL TROPHY
St Brendans Park FC 3
Ardee Celtic 1
The weather had just about stayed dry for what was one of the most exciting games played here on the new astroturf pitch of St Brendans Park since it was opened.
St Brendan Park starting the brighter from the out set, pressed into the oppositions half and a well-placed kick from Calvin O'Sullivan nearly put the home side in front on the eight minute.
Ardee themselves played some great football, however, Ryan O'Flaherty and Adrian O'Connor cut out any threats that Ardee placed on the defence. On the 16 minute a wonderful piece of play from the home side ended with the opening score from Calvin O'Sullivan.
The scored stayed at 1-0 at half-time. Two minutes after the restart Calvin O'Sullivan again scored from a great build up from Brendan Duggan and the midfield and this eased all nerves from the supporters at the ground St Brendans Park scored again from the boot of Shane Griffin.
With five minutes to go Ardee themselves scored to make the final score line 3-1. Player of the match was Brendan Duggan and now St Brendans Park's next date will be a quarter final of the all-Ireland national trophy competition.
Kerry Schoolboys Team of the Week
1 Sean Griffin (Iveragh UTD U16)
2 Darragh Goodwin (Camp Juniors U14)
3 Jamie Casey ( St Brendan's Park U14)
4 Diarmuid Murphy (Fenit Samphires U15)
5 Evan Diggins (Ballyheigue AFC U14)
6 Cathal Farrell (Dingle Bay Rovers U16)
7 Ryan Hand (Tralee Dynamos U16)
8 Ryan Kissane (Killarney Athletic U14)
9 Quillan McCarthy (Inter Kenmare u12)
10 Donnacha Gleeson (Killorglin AFC U12)
11Rory O Donoghue (Mastergeeha FC U15)
Kerry Schoolgirls Team of the Week
Sarah Walsh (Castleisland AFC)
Zoe Burrows (Tralee Dynamos)
Emily Mc Mahon (Killorglin AFC )
Ava Harty (MEK Galaxy)
Maria Evans (Dingle Bay Rovers)
Isla Cronin (Mastergeeha FC)