Tralee Warriors are U-20 National League champions after beating Galway opposition in titanic thriller in Tallaght
Aivaras Ousis was given the MVP award while Daniel Bowler was the game's top scorer with 22 points for the Tralee team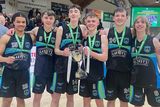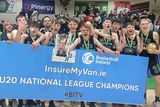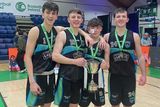 MEN' S UNDER-20 NATIONAL LEAGUE FINAL
Garvey's Tralee Warriors 71 Titans of Galway 65
Garvey's Tralee Warriors are InsureMyVan.ie Men's U-20 National League champions after overcoming Titans of Galway in a pulsating final at the National Basketball Arena in Tallaght on Friday night.
The Warriors led by as much as 24 points in a game they dominated for the first three quarters, but a heroic comeback by the Titans in the final quarter, where they brought it back to a single score game, was defiantly resisted as the clock ticked down by a Warriors side who were not going to be denied and secured the League title with six points to spare in the end after a breathless finale.
The sides were happy to trade scores in the opening quarter with a quality one handed effort from Eoin Creedon added to by Dan Bowler, Aivaras Ousis and Gary Lynch for the Warriors and countered by Titans opening score from Sam Cassidy and baskets from inside and out from Jackson Soper. Titans Ben Powell and Warriors Evan Boyle exchanged three point scores before Dan Bowler hit a hat trick of tough inside efforts to give the Warriors a 20-15 lead at quarter time.
The championship atmosphere in Tallaght went up a notch in the second quarter as both sets of supporters roared their teams on and it was Warriors who reacted better with an effort from Dan Bowler and Aivaras Ousis from either side of the arc pushing Luke O'Hea's charges 31-21 ahead. Titans response came through Joseph Coughlan, Tommy Burns, Soper and Brian Gaffney hitting his first three of the night but Ousis was again on target from beyond the arc to restore the Warriors 10 point lead. Bowler and Brendan Hardiman traded scores late on and at the long break the Warriors double digit advantage remained intact at 39-29.
The Warriors half-time team talk worked wonders as the Tralee side opened the third quarter with a blitz of scores to spread the game completely. The baskets were landed from all angles and it was captain Eddie Sheehy that started the run when driving baseline to open his account from play and then quickly adding a major score from the top of the arc.
Donal O'Sullivan added two tough inside scores and when Ousis and Creedon got in on the act the Warriors had fired their way to a potentially game winning 52-28 at the midway point of the quarter.
Titans resistance came in the form of scores from Gaffney, Powell and two from Liam O'Conaola but the Galway side were now in foul trouble and Bowler, Sheehy and Ousis helped themselves to six from eight from the line. However Titans finished the quarter with a stunning buzzer-beating three from Soper as good as you will ever see at HQ to keep their hopes just about alive as they trailed 60-43 at three quarter time.
Titans immediately set about cutting the Warriors advantage early in the fourth with Gaffney and Soper combining but Warriors countered and edged further ahead with scores from O'Sullivan, Bowler and Sheehy that had the big Tralee crowd on their feet with four minutes on the clock.
However Titans sensed they still had a chance and embarked on an unlikely comeback through a drive to the board from Coughlan and threes from Gaffney and Hardiman narrowing the daylight between the sides to 10. The Galway side continued to rattle in the scores with Hardiman and Gaffney again in range and an impressive late cameo from Coughlan landing him and Titans a hat trick of scores in the shadows of the finishing line.
In a breathless and chaotic final minute with the Galway side on five fouls they presented late opportunities to Sheehy and Creedon to inflict the decisive clutch finishes from the free throw line to secure a memorable win for the young Warriors outfit by 71-65 in the end.
Garvey's Tralee Warriors: Daniel Bowler (22), Aivaras Uosis (18), Eddie Sheehy (11), Eoin Creedon (6), Donal O'Sullivan (6), Gary Lynch (5), Evan Boyle (3), Adam O'Keeffe, Phoenix Costello, Jack Dakissia, Coren Hughes
Titans of Galway: Jackson Soper (18), Brian Gaffney (17), Joseph Coughlan (10), Brendan Hardiman (7), Liam O'Conaola (6), Ben Powell (5), Tommy Burns (2), Jason Nwose, Michael Popoola, Sam Cassidy, Dean Coughlan, Eoin Hardiman,
Aivaras Ousis deservedly picked up the MVP award before the equally outstanding Warriors captain Eddie Sheehy accepted the U-20 National League Cup to cue celebrations with the Tralee crowd that had travelled to Tallaght and see the future Warriors up close and personal. It was a brilliant occasion and full credit needs to go to coach Luke O'Hea, manager Rick Leonard and all the Warriors squad.