Rathmore Ravens claim inaugural Padraig Harnett Memorial Cup after U-16 Cup final win
St Marys boys win U-14 Division 1 Cup after incredible second half comeback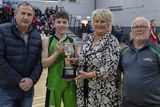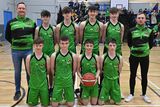 U-16 BOYS DIVISION 1 PADRAIG HARNETT MEMORIAL CUP FINAL
Rathmore Ravens 110
St Marys 40
Rathmore Ravens not only won the inaugural Padraig Harnett Memorial Cup but they also won their first ever division 1 trophy but unfortunately it was a one sided affair as St Marys could only muster five players due to various factors so this was never competitive. But this was not Rathmore Ravens fault and the boys and their coaches Arthur Moynihan and George O'Keeffe handled the situation with great dignity and sportsmanship. It wasn't the fault of St Mary's coach Ian McLoughlin either who tried his best and to his credit he ensured there was a final.
It was no more than a training session for Rathmore with Conor Moynihan scoring 34 while St Mary's captain Cillian O'Sullivan top scored with 20 points.
Maura Harnett and Brendan Harnett presented the cup to Michael Fleming, Chairman of KABB before the final in memory of Padraig who was the KABB PRO until his untimely passing last October.
U-14 BOYS DIVISION 1 CUP FINAL
St Mary's 63
St Annes 37
If you left at half time from this game, you might well imagine that the above scoreline was a misprint but it's not. St Marys trailed 12-1 at the end of the opening quarter and were 30 to 12 down at half time and playing poorly. But a rousing pep talk from coaches Denny Porter and Micheal Cahill saw a different St Marys come out for the third quarter and they blitzed St Annes going on an incredible 28-2 scoring run to lead 40-32 at the end of the third quarter, a 26 point swing. They then continued their scoring onslaught in the final quarter adding a sensational 23 points and remember these are only 8 minute quarters.
Padraig O'Sullivan, Kevin O'Shea and Óigí O'Leary Griffin were outstanding in the opening two quarters for St Annes while Cian Cahill and Ronan O'Connor tried to keep St Marys afloat but they were firing blanks.
But they caught fire in the third quarter with Cian Cahill, Ronan O'Connor and Jakub Surzyn just pouring in basket after basket. Then Jamie Nolan and Danny Nolan joined the party as did Ajay O'Connor and suddenly it was 40-32. There was nothing St Annes could do against the St Marys tidal wave as Jamie Nolan drained 8, Cian Cahill 6 and Ronan O'Connor nailed a three and St Mary's had produced some Houdini act.
Top scorers
St Marys: C Cahill 19, Jakub Surzyn 11, Ronan O'Connor 10, Jamie Nolan 10
St Anne's: Padraig O'Sullivan 15, Kevin O'Shea 6, Daniel Cronin 6