Aivaras Uosis puts in a magical performance as Tralee Magic win U-18 Division 1 Cup title
Rathmore Ravens score 100 points in Division 2 Plate final, while TK Cougars beat stubborn St Bridget's in Division 3 Plate final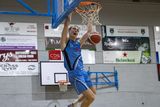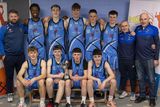 U-18 BOYS DIVISION 1 CUP FINAL
Tralee Magic 74
St Pauls 64
Another cracking high quality contest here that saw Tralee Magic just holding the edge as they defeated a skilful St Pauls side who play beautiful basketball but made too many mistakes.
Tralee Magic led 17-14 at the end of the opening quarter with Joshua Osayarrhion, Aivaras Uosis and Michael Tansley sinking good baskets for Magic while Jack O'Sullivan, Eoin Carroll and Oisin Spring kept St Pauls well in touch.
Jack O'Sullivan drained some lovely baskets while Eoin Carroll was excellent at high post. But Magic was making fewer errors with Uosis and Osayarrhion hurting Pauls in the paint, while Eoin Carroll responded with a couple of baskets along with Cian Forde who drained a three as Tralee Magic 35-27.
Magic moved clear in the third quarter with Uosis adding 8, Gearoid O'Connor 6 and Oisin McGibney scored another basket. Eoin Carroll continued to impress for Pauls as Tralee magic led 54-41 with just one quarter left.
The final quarter was notable for an Alley-Oop from Jack O'Sullivan and slam dunk from Aivaras Uosis but despite never giving up, St Pauls just came up short. Well done to coaches David Leahy and Brian Clarke.
Top scorers
Tralee Magic: Aivaras Uosis 23, Joshua Osayarrhion 21
St Pauls: Eoin Carroll 21, Jack O'Sullivan 16
U-18 BOYS DIVISION 2 PLATE FINAL
Rathmore Ravens 100
St Annes 84
What a cracking starting to Saturday's action at the Tralee Sports Centre when Rathmore Ravens and St Annes produced a game for the ages with Ravens emerging victorious after a high quality and gripping contest. Spare a thought for St Annes though because when you score 84 points in basketball you would expect to win but they just came up short against Rathmore and their two top shooters John Hughes and Shane Daly who shot the lights out.
Hughes drained a game high 36 points including 7 three-pointers while Shane Daly added 24 with three three-pointers so it was some performance by the Jim Hughes coached side. But St Annes traded baskets with them all the way until the final quarter with Josh Vermiglio outstanding with a personal haul of 25 points and Brid O'Connor and her team really contributed to a superb game of basketball that belonged to Division 1.
Rathmore led 22-21 at the end of the opening quarter with John Hughes draining three from outside the arc and Shane Daly also scored a three while Ciaran Collins was excellent on the high post. Josh Vermiglio scored 12 for St Annes as it came clear that both teams were not going to play the 24 second clock.
Shane Daly went on a scoring rampage hitting 12 points in the first three minutes of the second quarter to move 32-25 in front but St Annes, thanks to six points from Conor Martin, were back to within one before three pointers from Cian Twomey and Ciaran Collins pushed Ravens clear again but St Annes continued to score on the fast break with Josh Vermiglio strong in the paint and a three-pointer from Michael Fitzgerald saw St Annes lead 47-46 at half time.
They increased their lead with a Josh Vermiglio three but Ciaran Collins with a two baskets and a Shane Daly deuce had the side's level before Vermiglio and Hughes traded three pointers. It was John Hughes who levelled with a jumper and then drained a three from down town as Rathmore regained the lead 66-63 and they were never to lose that lead. Vermiglio and Owen O'Connor kept St Annes in touch as Rathmore led 76-71 at the end of the third thanks to a Ciaran Collins three.
Hughes, James and Cian Twomey pushed Rathmore 9 clear but two superb threes by Daithi O'Shea closed the gap to just three with six minutes left. But Rathmore were not going to be denied and finished the stronger with John Hughes shooting another 12 points while it was left to Denis O'Brien to secure the 100 points with a last second basket. A credit to both sides and was easily the best final of the weekend.
Top scorers
Rathmore Ravens: John Hughes 36, Shane Daly 24, Ciaran Collins 20
St Annes: Josh Vermiglio 25, Conor Martin 20, Owen O'Connor 10
U-18 BOYS DIVISION 3 PLATE FINAL
TK Cougars 59
St Bridget's 39
TK Cougars powered by the outstanding Nathan Cox got the better of a stubborn St Bridget's side who were in this contest until the final quarter when Nathan Cox cut loose scoring 13 points in that final quarter to give Cougars a deserved win.
St Bridget's made a bright start and moved 8-2 in front thanks to baskets from Luke Twomey, Cathal Sheehan and Nikodem with Finn Kennelly getting Cougars basket. Nathan Cox then drained the first of his seven three pointers but St Bridget's led 8-5 at the end of a scrappy quarter.
But once Nathan Cox found his range, along with the excellent Jack Kelliher at both ends and Finn Kennelly chipping in with regular scores St Bridget's knew they had a game on their hands.
But Eamon O'Mahony, Cathal Sheehan and the outstanding Cathal White kept St Bridget's in the game with Cougars leading 24-17 at half time. It was basket for basket in the third quarter with Roy Clancy getting in the act for Cougars along with Jack Kelliher while Luke Twomey, Eamon O'Mahony with a three and White ensured that at 34-28 it was still all to play for in the final quarter. But it time for Nathan Cox to take over and he helped himself to 17 points down the stretch and with only Cathal White able to respond, a well coached TK Cougars side eased to a big win.
Top scorers
TK Cougars: Nathan Cox 35, Finn Kennelly 12
St Bridget's: Cathal White 12, Cathal Sheehan 8