National Football League: All you need to know about the final day permutations and possibilities
Much is still be be decided across all four divisions of the football league, with Kerry very much in the hunt to qualify for the Division 1 final where Mayo await any one of four counties still hoping to reach the April 2 decider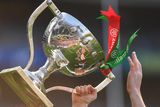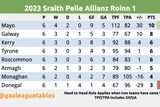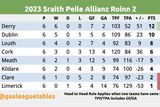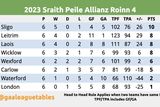 Following the penultimate round of games in the Allianz Football League this weekend, matters with regard to the Division 1 finalists, and promotion and relegation across the four divisions has become much clearer, though there remains quite a bit to be decided next weekend with the round 7 fixtures all to be played on Sunday.
Here's all you need to know heading into the final round of games...
​
DIVISION 1
​
Mayo have 10 points and have qualified for the League final, and they are almost guaranteed to finish top of the table. In order to be knocked off the top spot Mayo would have to lose their final game, at home to Monaghan, and have Galway beat Kerry by enough to overturn the +20 better scoring difference they currently have over their Connacht neighbours. Mayo and Galway drew in Round 1 so the head-to-head will not come into play in the event both teams finish the campaign with 10 points.
It is below Mayo where the real competition is. Galway, currently on 8 points, will qualify for the final if they beat Kerry in Salthill. A draw will also be good enough for Padraic Joyce's team to qualify for the final.
Below Galway, three teams – Kerry, Roscommon and Tyrone – are on 6 points; Kerry the best of that trio at the moment with a +4 scoring difference, while Roscommon and Tyrone have a +1 scoring difference.
If Kerry beat Galway they will finish ahead of the Tribesmen; level on 8 points but ahead of them on the head-to-head result. If both Roscommon and Tyrone fail to win their final game then Kerry will play Mayo in the final.
Roscommon and Tyrone can both still qualify for the final, by beating Donegal and Armagh respectively, hoping Kerry beat Galway, and that the final scoring difference can carry them into second place on the table.
If Kerry, Roscommon and Tyrone all win next Sunday there would be a four-way tie for second place. If one of Roscommon and Tyrone don't win, and Kerry do, there would be a three-way tie for second place. Either way, scoring difference coming into play.
On the other side of things, Donegal's relegation has all been but confirmed following Sunday's lose to Mayo. Mathematically, Donegal can still survive the drop but it the longest of long shots that they will stay up. If Donegal beat Roscommon, they would also need Monaghan to draw away to Mayo and hope Tyrone beat Armagh to force a three-way tie between the three Ulster counties, who would all finish on 5 points. Scoring difference would then come into play, but Donegal are currently on -29 and Armagh on -1, so the likelihood of them overturning that 28-point differential is beyond unlikely.
Even if Donegal were to beat Roscommon and see Armagh lose to draw level with them on 5 points, the Orchard county have the head-to-head win over Donegal.
Amazingly, any one of Monaghan, Armagh, Tyrone, Roscommon and Kerry can still be relegated with Donegal. Monaghan are in the most danger of dropping, while it would take a very particular – and probably unlikely – set of scorelines on the final day to relegate Kerry.
Monaghan, with 4 points, have to beat Mayo to give themselves a chance of survival, but they would also need Armagh (5 points) to lose to Tyrone. A draw for Armagh would keep them ahead of Monaghan, most likely with a better scoring difference, but also on their head-to-head result.
Kerry, Tyrone and Roscommon only need a draw in their final game to keep them in Division 1 next year as their final points total (7)  couldn't be matched by Monaghan.
​
Round 7 Fixtures
(all games at 1.45pm)
Roscommon v Donegal
Mayo v Monaghan
Galway v Kerry
Tyrone v Armagh
​
​
DIVISION 2
​
Unusually for what has long been regarded as the most competitive division – or the hardest to get up out of at any rate – there is only one promotion spot to be decided next weekend. Derry – the only team with a maximum 12 points across all four divisions – have secured promotion and will top the table even if they lose to Cork next week, as their head-to-head win over Dublin guarantees them first place.
Dublin are in pole position to join Derry in the final and make a swift return to the top tier after their relegation last season. The Dubs play Louth in Croke Park on Sunday in what is effectively a straight play-off for second place. If Dublin win they will finish in second place, regardless if Derry lose in Cork because of that head-to-head result.
If Louth beat Dublin they will match their 10 points but finish above the Dubs on the head-to-head.
At the bottom, Limerick's and Clare's relegation to the third tier has been confirmed. The Munster neighbours play each other in the final round, but even a win for Clare to get them to 4 points won't be good enough, even if Kildare lose to Meath to stay on 4 points, as the Lilywhites beat Clare in their round 3 head-to-head.
​
Round 7 Fixtures
(all games at 2pm)
Cork v Derry
Kildare v Meath
Dublin v Louth
Clare v Limerick
​
​
DIVISION 3
​
Like Division 2, everything in the third tier is decided bar one promotion place. Cavan's promotion is assured, though they are not guaranteed to go up as table toppers. They play their Ulster neighbour Fermanagh in the final round, where a Fermanagh win, or a draw, would promote both. Should Fermanagh lose, it would bring Down and Offaly – who play each other in round 7 – into the equation.
A Down win coupled with a Fermanagh loss would promote the latter, as they would both finish on 10 points but Fermanagh won their head to head. An Offaly win and a Fermanagh loss would promote the former, as the Faithful won their head-to-head.
Cavan cannot be knocked out of the top two because they have beaten Down and Offaly and so will be placed above them on that head-to-head basis if they finish level on 10 points with either of them.
At the bottom, Tipperary and Longford have been relegated with a game still to play.
​
Round 7 Fixtures
(all games at 2pm)
Offaly v Down
Longford v Antrim
Westmeath v Tipperary
Cavan v Fermanagh
​
​
DIVISION 4
​
Even though there is no relegation from Division 4, any two of five counties are still in the hunt for promotion to the third division.
Sligo are in pole position, and a win or a draw against Leitrim on Sunday will promote them. A  Leitrim win, coupled with both Laois and Wicklow not winning, would promote the two Connacht counties.
Wins for Leitrim, Laois and Wicklow would create a four-way tie with Sligo, when scoring difference would determine which two go up, and while Wicklow's scoring difference (+6) is relatively poor, just five points separate the others: Leitrim (+29), Sligo (+26) and Laois (+24).
Wexford could also play themselves into a tie for second place if Leitrim, Laois and Wicklow were all to lose, but their far inferior scoring difference (+2) makes it practically impossible for them to be promoted.
​
Round 7 Fixtures
(all games at 1pm)
Waterford v Wicklow
London v Laois
Wexford v Carlow
Leitrim v Sligo