Killarney Tidy Towns season off to a poignant start as late Yvonne Quill remembered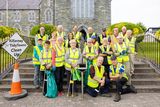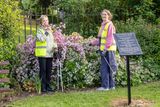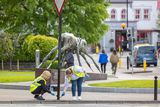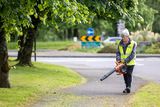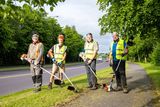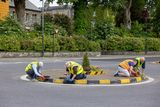 It was a strange and poignant start to the Tidy Towns season locally here in Killarney as, for the first time in 25 years, the season started without the group's stalwart veteran volunteer, the late Yvonne Quill, who passed away late last year.
Speaking to The Kerryman on Tuesday, Killarney Tidy Town's member Johnny McGuire said that there is a big hole in the group where Yvonne used to be and that it will take some time to fill.
"This is our first year without our Team Captain, Yvonne Quill, after she passed away last year. It's the first time in 25 years that the Tidy Towns campaign here in Killarney has started without her," he said.
"She's sorely missed without a shadow of a doubt. We never realised what big shoes we had to fill," he said.
Fittingly, Johnny continued, the first clean up of the season started right on Yvonnee's old patch, the Franciscan Friary.
"By coincidence, we started on the steps of the Franciscan Friary which would have been her [Yvonne's] local church and we had a good turnout for the first outing of the season so we were happy with it," Johnny continued.
First order of business was a spot of painting, strimming the grass and pruning as well as some power hosing too.
Going on, Johnny said that a special mention must go to the work done by Kerry County Council.
"We're just putting a polish on the fantastic work that the outdoor staffers of Kerry County Council do on a daily basis throughout the year. It's a credit to their dedication and it's a privilege for us to polish their work up," he added.
Finally Johnny asked that all businesses and residents should do their own small part to keep their area tidy.
The group will be out every Monday night going forward with more information to be found over on the Killarney Tidy Towns Facebook page.